The first Americans to fight the Nazis revealed:American Bombers and Their Crews, 1942
| | | |
| --- | --- | --- |
| | Working on a bomber's ball-turret during World War II, England, 1942. | |
The first Americans to fight the Nazis revealed: How misfits including taxi driver, Mormon and make-up artist risked arrest by the US to join Britain's air force in 1940 – and ended 150 years of frosty relations

Scores of Americans signed up for the Royal Air Force in 1939 and 1940 to take on the Nazis - breaching US law by doing so

Many risked arrest by crossing border to Canada to sign up for the RAF and became heroes of the Battle of Britain, the aerial battle against the Nazis

They formed 71 'Eagle' Squadron but refused to swear allegiance to the King, despised senior officers - and British couldn't understand them

Maverick bunch included pilot who threw his empty beer bottles out of the cockpit at Nazi targets, new book reveals

Another was New York taxi driver nicknamed 'Uncle Sam' who said dodging Luftwaffe fighters was no worse than driving in rush hour





They were a bunch of misfits who counted a makeup artist, a Mormon and a New York City taxi driver among their number.

But this group of unlikely airmen effectively founded the 'Special Relationship' between Britain and America when they volunteered to fight for the UK against the Germans in 1940 during WWII.

Their unit, 71 'Eagle' Squadron began the thawing of relations between the two countries that had lingered since the War of Independence by signing up for the Royal Air Force even though America had forbidden it.

A new book describes the men as a 'crew of primitive cowboys' who were ill-disciplined, refused to pledge their allegiance to The King and were obsessed with sex.

'A crew of primitive cowboys': The British had mixed views initially of the Eagle Squadron, but 71 Squadron was to become a formidable fighting force. In its early days it was equipped with Hawker Hurricanes.

The few: 71 (Eagle) Squadron in February 1941:From left to right are William Nichols; Ed Bateman; Mike Kolendorski,; Bill Taylor; Andy Mamedoff; Eugene 'Red' Tobin; Nat Marantz,; Luke Allen; Peter Provenzano; Kenneth S. Taylor; Reginald Tongue (a British pilot on temporary assignment); Gus Daymond; and Sam Muriello.

Pioneer: William R Dunn was officially recognized in 1968 as the first American ace of the Second World War. Seen here at the seat of his fighter in RAF uniform, he had joined the Canadian army in 1939 and answered an appeal for pilots who had more than 500 hours of flying time.

Maverick group: Chesley G. 'Pete' Peterson (far right) and Gregory A. 'Gus' Daymond (second from right) along with other Eagle Squadron pilots. Peterson was a Mormon and Daymond had been a Hollywood make-up artist

They spoke with an accent unrecognizable to the British, did not respect the country's stiff class system and drank with lower ranks to the horror of their superiors.

Among the first wave of mavericks - almost all of whom died - was Mike Kolendorski who threw empty beer bottles out of his cockpit on German installations as he flew over them.

But two years before Pearl Harbor these were the men who became some of the most deadly fighters aces in WWII and shot down dozens of German planes.

Their exploits are described in the new book 'Yanks in the RAF', a vivid account of Eagle Squadron's brief existence by military historian David Alan Johnson.

The story began in 1940 when Americans were banned from fighting with the Allies because of the US Neutrality Act, which kept America out of the war until Pearl Harbor in December the following year.

But that did not stop hundreds of adventurers from making their way across the Canadian border - dodging FBI agents on the way - and venturing on to Britain.

The men were recruited by Colonel Charles Sweeny, a wealthy American businessman with family connections in London whose plan was to make a version of the French Air Force, l'Armee de l'Air.

Wanted: Don Gentile and John Godfrey. Reichsmarschall Hermann Göring, chief of the Luftwaffe, offered to give up two fighter squadrons in exchange for 'the Italian Gentile and the Englishman Godfrey'.

Fury: Reichsmarschall Hermann Göring, the head of the German air force (pictured after he surrendered) realized the military and propaganda value of Eagle Squadron was bad news for the Nazis. He was ridiculed by the British as 'Fat Hermann' from 1939 onward and lost the Battle of Britain, making invasion impossible

Badge of courage: James Goodson (left, in the US-built Mustang which the RAF gained under lend-lease) was one of the American to wear the Eagle squadron's insignia (right). He was on a ship torpedoed by a German U-boat in 1939 and volunteered to join the Royal Canadian Air Force, before transferring to Eagle Squadron

Ultimate maverick: Mike Kolendorski in the cockpit of his Hawker Hurricane early in 1941. He was shot down on May 17, 1941, the first Eagle Squadron pilot to be killed on active service with the RAF. He had thrown his empty beer bottles out of his cockpit at German targets below

Recruits had to lie their way across the Canadian border; Johnson writes that one Wall St banker told customs officers in Boston he was going to Canada 'for some shooting' and simply didn't come back.

The original three Eagle Squadron members were Andy Mamedoff, Eugene Q. 'Red' Tobin and Vernon C. 'Shorty' Keough'.

They were already in the RAF having fought with 609 Squadron and found themselves drafted into the first all-American squadron in British history.

Keough was a professional parachutist who had notched up 486 jumps at shows but at four feet 10 inches was best known for his diminutive height.

Tobin was from California so his British comrades all assumed he was a cowboy. Mamedoff was a thrill seeking former air show pilot who would go on to marry an English girl.

Soon after others joined them at their base in Church Fenton, Yorkshire, in September 1940 including Mike Kolendorski who cared more for Poland than Britain.

His family were Polish and their country had been invaded by the Nazis so joining the RAF was the best he could do under the circumstances.

Gus Daymond had been a makeup artist in Hollywood and was motivated to join up after listening to Hitler's speeches between takes on set.

Another early recruit was Sam Mauriello who was quickly nicknamed 'Uncle Sam' and claimed that his previous life as a New York taxi driver made him a better pilot.

Johnson writes that 'dodging German fighters was no worse than rush-hour traffic in Midtown Manhattan. Driving in that murderous traffic also gave him an instinct for survival'.

Others signed up for far less noble reasons: one was fed up with his wife, another wanted to get away from his girl and a third was in debt.

According to Johnson: '(British) Fighter Command and the Air Ministry saw the Eagles as a collection of rugged individualists who could never really make a fighting unit, even if they tried.

'The Eagles were a crew of primitive cowboys who grew up with too much freedom, and they would never be willing or able to learn discipline'.

The beginning of the squad was not promising, either.

When Mamedoff, Keough and Tobin arrived on September 19 1940 for their first day of training they found out that they were the entire squadron - there was no officer, no planes and no orders.

Into battle: One of the Eagle squadron's Hawker Hurricanes, a hand-me-down they were given when the unit was established. Pilots wanted the Spitfire, which was all-metal, and seen as superior

Casualties of war: From left Eugene 'Red' Tobin, Vernon 'Shorty' Keough, and Andrew 'Andy' Mamedoff flew with 609 (West Riding) Squadron during the Battle of Britain and were then posted to Eagle Squadron. All three died on active service

Ten days later Squadron Leader Walter Churchill turned up and eight more Yanks were soon on their way.

The men had to make do with nine hand-me-down Hurricane Mark I fighter planes which were seen as inferior to the Spitfires, although they were eventually equipped with the best of the British fighters.

The men had to make do with nine hand me down Hurricane Mark I fighter planes, though they eventually were given Spitfires.Churchill tried his best with the raw recruits and in November 1940 they moved south closer to the action to an airfield in Kirton-in-Lindsey in Lincolnshire.

The first deaths were caused by air crashes when Pilot Officer Zeke Leckrone came down in a training exercise. He was buried with the Union Jack and the Stars and Stripes draped over the coffin.

In January 1941 Churchill was replaced as Squadron leader by Bill Taylor, who implemented a regime of strict discipline which the Americans hated. But it made them better pilots.

By June they had been deemed operational and were about to get their first taste of the action - yet Johnson makes clear even that was a minor miracle.

The British government used the creation of the Eagle Squadron for maximum public relations effect to try to convince America to enter the war - although they failed in that, and with an unfortunate side-effect.

As a result of the slew of articles they became known as the 'Glamor Boys', sparking a backlash from other jealous airmen.

Blitzed: The German onslaught against Britain while America was not in the war saw London bombed extensively. The British government hoped Eagle Squadron would help drag the US into WWII but it took Pearl Harbor for that to happen

Bltized: London in September 1940 as the Nazi bombardment was at its height. It was this month that Eagle Squadron was set up, with no planes. The following year, it was in the air - and taking out German planes

Botched: Eagle Squadron was in the air as Britain, Canada and their ally the US launched the disastrous Raid on Dieppe. Half the soldiers who landed in the French port were killed, captured or wounded. But

Enemy: The main threat to Eagle Squadron in the air were the Luftwaffe's Focke Wulf 190, (left) and the Messerschmitt Bf 109 (right), both single-seater German fighters

BRITISH AIRMEN'S SLANG

The American fighting with the RAF could not initially be understood by their comrades.

But the 'Yanks' picked up the British force's slang quickly. Terms included:

Prang: To crash - or also to have sex

Good show: Victory in the air

Catch a packet: Come under fire

KRS: King's Regulations, the rules for all members of Britain's armed forces. Now Queen's Regulations

Gerry: Term of contempt for Germans

Dobhi: Laundry facility on base, from Hindi word for laundry thanks to Britain's then status as an empire

Critics pointed out that the standards for joining the RAF were lower than the US Air Force and it required men with 20/40 vision - correctable with goggle lenses - and allowed them to be married.

The USAF demanded 20/20 vision and insisted the pilots be unwed.

The Americans also had to deal with prejudice towards the Eagle Squadron project - from both the US and the British.

The feeling among many in America was that the British had just been pushed out of Dunkirk and were losing the war. To add insult to injury, Britain had still not paid back the £218 million it borrowed after World War I.

School textbooks in America had long taught that Britain was the enemy and some still regarded them as the 'damned redcoats', named after loyalist uniforms in the War of Independence.

Equally many British airmen were suspicious of the Americans and thought of them are Germanophiles as their nation was founded partly by German immigrants.

One poll found that the average Brit thought that Americans were democratic and freedom-loving. Another found they were 'impractical, mercenary, conceited and smug', Johnson writes.

He writes: 'In short the Americans were thought of as being not very reliable in wartime. They acted mainly out of self-interest and should not be counted on very much'.

It was quite a culture clash all said, and Johnson writes that the British airmen were 'appalled' by the behavior of their transatlantic cousins.

He writes that the Americans 'seemed to go out of their way to be as loud, ill mannered and irritating as possible'.

They refused to show any discipline or military courtesy, they would not salute, and displayed 'barnyard table manners' in the mess.

Rather than making themselves a drink they asked for 'some goddam water' and ate with their hands, he writes.

This England: The Spitfire became the symbol of the RAF's superiority to the Luftwaffe. Eagle Squadron was eventually equipped with them after first flying in Hawker Hurricanes

Deadly: A Spitfire in American colors. The first USAAF fighters units based in Britain used the British planes, with the American star painted on the side. Unprepared for war after Pearl Harbor, it would be 1943 before an American plane capable of taking on the German fighters was in action with all fighter units. The Eagle Squadrons brought their Spitfires with them when they transferred to the USAAF

The Americans found the weather in Britain 'beneath contempt' and found England in general to be 'alienating and depressing'

Then there was the language barrier; it wasn't just the accent, the Yanks had no idea what the Brits meant when they said things like a 'piece of cake', meaning something was easy.

They soon picked it up and talked about a pilot who 'bought it' (died), or had a 'prang' (crash, also a word for sex) and uttered thoroughly un-American phrases like 'good show'.

The Americans also developed a reputation for being obsessed with sex. Johnson quotes one London woman at the time saying they were 'full of vanity and conceit and self importance - but they all fell in love with them anyway'.

A man from London described the US airmen as 'either near-rapists or irresistibly skilled seducers'.

With such a reputation built up it was time for the Eagle Squad to start proving their worth.

The first recorded kills for Eagle Squadron were on July 2 1941 as they protected a bombing run on the Lille electric power station in France.

The end: United States Army Air Force Brigadier General Frank O'Driscoll Hunter, (left) commanding Eighth Air Force Fighter Command, and Air Chief Marshal Sholto Douglas, then head of RAF Fighter Command, salute as the three Eagle Squadrons are transferred from the RAF to the USAAF on September 29, 1942.

Under American command: Army Air Force Major-General Carl Spaatz was in command of all US air operations in Europe. The 51-year-old had been in the air in World War One

American power: The RAF was given Mustangs under lend-lease, with the American fighters flying in British colors. They were the first British single-seat fighters to cross into German air space

US arrives: The Eighth Air Force arrived in 1942 but its pilots were woefully unprepared for the Nazi threat. Some of their equipment was formidable - including the B-17 Flying Fortress bombers, seen in action over the continent, earning them the nickname The Mighty Eighth

In a year from now most of you will be dead.

Flt Lt George A. Brown to the first men of the second Eagle Squadron. His prophecy was true

They had an encounter with the infamous 'Abbeville Boys' which had nine squadrons of Messerschmitt Bf 109s, considered the elite of the German units.

Pilot William Dunn scored first blood when he sent one of the planes crashing to the ground. Henry 'Paddy' Woodhouse bagged one too, as did Gus Daymond.

Over the next four months they would engage in the enemy in multiple sorties and had their rough edges wore away, leaving behind a sleek unit even the RAF would be proud of.

A particular favorite operation of the Americans were the 'Rhubarb Runs' where two pilots would go off on their own and take on a target they had worked out in the pub the night before.

Johnson says that these appealed to their desire for 'individual action' and appealed to the 'wild man' inside them.

Then, to the shock of the entire RAF, in October the Air Ministry announced that the highest scoring unit for the month was 71 Squadron with nine kills.

But the achievement came at a price: a year after Eagle Squadron had been set up, out of the original group of 28 pilots who signed up, just three were left - a 89 per cent death rate.

A second Eagle Squadron was set up and Flight Lieutenant George A. Brown, their leader, told the recruits to have a good look around the mess hall as 'in a year from now, most of you will be dead'.

Johnson writes that it was a 'startling prophecy - it also turned out to be true'.

By the time of the Dieppe raid on August 19 1941 a third squadron had been added but by then the writing was on the wall for the Eagles.

In September 1942 after America joined the war all the surviving Eagles were transferred to the USAF but with one concession - they could continue to wear miniature copies of their RAF wings on their right breast pocket.

The official records of the RAF show just seven Americans serving in the summer of 1940, but Johnson writes that there were 'many, many more'.

By 1943 millions of Americans would be stationed in Britain, but in 1940 few had seen a Yank up close.

According to Johnson, the trade ties, cheap flights across the Atlantic and everything that goes into the 'Special Relationship' - the British term for its uniquely close bond with the US - started at that forlorn airfield in Church Fenton with three American pilots and no commander.

He writes: 'The change in attitude of the two countries towards each other, from friendly enemies to special allies, first began with the Yanks in the RAF'.





























































































































Within weeks of the December 1941 attack on Pearl Harbor and America's official entry into the Second World War, Allied forces in Europe activated the now-legendary VIII Bomber Command (often referred to as the Eighth Air Force) to serve as the principal American force to attack Germany from the air. Often in tandem with planes from the Royal Air Force, American B-24s and B-17s — or Flying Fortresses — from the "The Mighty 8th" would spend the next several years bombing strategic towns and cities in Nazi-held Europe.

As a jumping off point for countless bombing runs, including many in broad daylight, the United States Army Air Forces (the predecessor of the U.S. Air Force) set up bases in England during the war. In 1942, LIFE's Margaret Bourke-White spent time with the Bomber Command — an assignment that LIFE shared with its readers in an October 1942 feature notable, although hardly surprising, all these years later for its triumphant tone:




The Spitfire in colour: Amazing colourised pictures show how the RAF's iconic fighter plane and its hero pilots really looked when they helped win WW2

The amazing photographs were colourised by design engineer Paul Reynolds from Birmingham

Among those featured in the images is legendary fighter ace Douglas Bader who flew with artificial legs

The photographs also show the Spitfire in service with the South African and US air forces during the war










Striking images of the Supermarine Spitfires that helped Britain win World War Two have been brought into the twenty-first century after being expertly colourised.

The stunning shots show a Merlin engine being fitted into a Spitfire at CBAF Castle Bromwich Aircraft Factory, Spitfires taking off from an air field and Spitfires in flight formation while on a bombing mission.

Other incredible pictures show a downed US Spitfire that had crash landed, German soldiers sitting on a downed plane on Calais beach and pilots admiring the nose art on one of the fighters.

Scroll down for video

These Spitfire Mark VCs of No 2 Squadron of the South African Air Force were flying in a loose line astern formation over the Adriatic Sea on a bombing mission in November 1943. The VCs were able to carry one 250lb bomb under each wing

These two German soldiers sit on Spitfire P9374 which was shot down over Calais in 1940 while on a sortie from RAF Hornchurch in Essex. Pilot Officer Peter Cazenove performed a belly-landing and was taken prisoner after the fall of Calais. Amazingly, the aircraft was rediscovered in 1980 was returned to flight in September 2011 after reconstruction

Flying Officer Leonard 'Ace' Haines of No 19 Squadron is pictured at Fowlmere on his Supermarine Spitfire, Mk 1 in September 1940 He was credited with shooting down six enemy aircraft during the Battle of Britain and having a half-share in a seventh. He was transferred to a training squadron following the battle and was killed in an accident west of London

The vivid photographs were painstakingly colourised by design engineer Paul Reynolds from Birmingham.

'Having grown up a couple of miles from CBAF I've always had an affinity for the Spitfire also the aircraft is a legend which respected throughout the world,' he said.

'I chose this set of photos because it shows Spitfires from various air forces (RAF, USAF, SAAF), showing what a multinational fighter it was.

'I hope my set represents the life of the Spitfire from being built, into flight to being shot down.'

The Supermarine Spitfire is a British single-seat fighter aircraft that was used by the Royal Air Force and many other Allied countries before, during and after World War II.

This spitfire, sporting the black and white striped D-Day markings crash landed in Tully-sur-Seulles during the Normandy campaign in 1944. A column of Sherman tanks has been photographed bypassing the crashed fighter

The Supermarine Spitfire, pictured here on January 1, 1940 returning from a coastal patrol, shot down fewer enemy aircraft than the Hawker Hurricane during the Battle of Britain, although to the general public, the elliptical wing and sleek lines made it quicker and more manoeuverable than the Hurricane

Supermarine Spitfire v the Hawker Hurricane - The two heroes of the Battle of Britain in 1940

| | SUPERMARINE SPITFIRE | HAWKER HURRICANE |
| --- | --- | --- |
| ENGINE | 1030hp Rolls-Royce Merlin engine | 1,030hp Rolls-Royce Merlin engine |
| SPAN | 36ft 11 | 40ft |
| LENGTH | 29ft 11 | 31ft 4 |
| TOP SPEED | 362mph | 328mph |
| ARMAMENT | Eight - .303 Browning machine guns | Eight - .303 Browing machine guns |

During the Battle of Britain, from July to October 1940, the Spitfire was perceived by the public to be the main RAF fighter, though the more numerous Hawker Hurricane shouldered a greater proportion of the burden against Nazi Germany's air force, the Luftwaffe.

Spitfire units, however, had a lower attrition rate and a higher victory-to-loss ratio than those flying Hurricanes because of its higher performance.

After the Battle of Britain, the Spitfire superseded the Hurricane to become the backbone of RAF Fighter Command, and saw action in the European, Mediterranean, Pacific, and South-East Asian theatres.

This Supermarine Spitfire VC 'Tropical' JK707 MX-P was serving with the 307th Fighter Squadron of the 31st Fighter Group of the US Air Force when it was crash landed by Major Virgil Cephus Fields, Jr on a beach in Salerno, Italy on September

9, 1943

These Supermarine Spitfire Mark VBs of 122 Squadron are taking off from Hornchurch Essex in 1942 for a fighter sweep over France. The photograph was taken from the watch tower. The international squadron was commanded by Czech Squadron Leader František Fajtl and flew offensive missions over northern France as well as escorting bombers during raids

Much loved by its pilots, the Spitfire served in several roles, including interceptor, photo-reconnaissance, fighter-bomber and trainer, and it continued to serve in these roles until the 1950s.

Mr Reynolds hopes his colourised photos can help teach the younger generation about the history of this country.

'I colourise these photos to bring our past to a new generation of people,' he explained.

'Many of my colourisations on my Facebook page get viewed by tens of thousands of people - many from the 16 to 24 age group.'

These technicians are fitting the V12 Merlin engine at the Castle Bromwich Aircraft Factory. The engine - which produced 1030hp - was able to power the Spitfire to 362mph - 30mph quicker than the Hurricane equipped with the same engine

Squadron Leader Douglas Bader, centre, pictured with Flight Lieutenant Eric Ball and Pilot Officer Willie McKnight, standing in front of Bader's Hawker Hurricane in Duxford in October 1940. He was shot down over France in August 1941

This image shows pilots standing in front of a Spitfire whose wings have been tethered by rocks to stop it being blown away


















| | | |
| --- | --- | --- |
| | | |
Fighters





CW-21 Demon




F2A Buffalo




F4F Wildcat




F4F-3S "Wild Catfish"




F4U Corsair




F5F Skyrocket




F6F Hellcat




F7F Tigercat




F8F Bearcat




FD/FH Phantom




FM-2 Wildcat




FR Fireball




P-26 Peashooter




P-35A Guardsman




P-36 / Hawk 75




P-38 Lightning




P-39 Airacobra




P-40 Warhawk




P-43 Lancer




P-47 Thunderbolt




P-51 Mustang




P-59 Airacomet




P-60




P-61 Black Widow




P-63 Kingcobra




P-64 / NA-50A / NA-68




P-66 Vanguard




P-70 Nighthawk




P-75 Eagle




P-80 Shooting Star




P-82 Twin Mustang




P-400




V-173 Flying Flapjack




XF14C




XF15C-1




XF5U-1 Flying Flapjack




XF8B-1




XFL-1 Airabonita




XP-46




XP-50 Skyrocket




XP-54 Swoose Goose




XP-55 Ascender




XP-56 Black Bullet




XP-58 Chain Lightning




XP-67 Bat




XP-72




XP-77




XP-81




YFM-1 Airacuda





Bombers





167 Maryland




187 Baltimore




B-10/B-12




B-17 Flying Fortress




B-18 Bolo




B-23 Dragon




B-24 Liberator




B-25 Mitchell




B-26 Marauder




B-29 Superfortress




B-32 Dominator




B-34




PB4Y Liberator




PB4Y-2 Privateer




PV Ventura/Harpoon




PV2 Neptune




XB-15/XC-105




XB-19A




XB-28 Dragon




XB-35 "Flying Wing"




XB-36 Peacemaker




XB-41




XB-42 Mixmaster




XB-43 Jetmaster




XB-45 Tornado




XB-46




XB-47 Stratojet




XB-48




YB-40





Attack





A-17A




A-20 Havoc




A-24 Banshee




A-25




A-26 Invader




A-28/A-29 Hudson




A-30 Baltimore




A-31/A-35 Vengeance




A-33




A-36




AD-1 Skyraider




AM-1 Mauler




DB-7




BT2C




XA-22




XA-32




XA-38 Grizzly




XA-41





Dive Bombers





A-31/A-35 Vengeance




BTD Destroyer




SBA/SBN




SB2A Buccaneer




SB2U Vindicator




SBC Helldiver




SB2C Helldiver




SBD Dauntless





Torpedo Bombers





TBD Devastator




TBF Avenger




TBY Sea Wolf





Cargo/Transport




C-21/ C-26




C-32/ C-33/ C-34




C-35/ C-36/ C-37




C-38/ C-39




C-40




C-41/ C-42




C-45 Expeditor




C-46 Commando




C-47 Skytrain




C-49




C-53




C-54 Skymaster




C-56/C-57

C-58




C-59/C-60




C-64 Norseman




C-67




C-69 Constellation




C-73




C-74 Globemaster




C-75




C-76 Caravan




C-82 Packet




C-84




C-87




C-93 Conestoga




C-98




C-117




CG-3A




CG-4A




CG-13




CG-15A




DC-2




DC-5




LRA-1




Model 10-A Electra




Model 12-A




Model 18 Lodestar




RB-1 Conestoga




RD




R2D




R3D




R4D




R5D




UC-43 Traveller




UC-45 Expeditor




UC-61 Forwarder




UC-64 Norseman




UC-67




UC-70/DGA-15




UC-72




UC-78 Bobcat




UC-81




XCG-10A





Liason





Fairchild JK




L-1 Vigilant




L-2 Grasshopper




L-3 Grasshopper




L-4 Grasshopper




L-5 Sentinel




L-6 Grasshopper




NE, AE, HE




UC-43 Traveller




UC-61 Forwarder





Trainers





AT-6 Texan/SNJ




AT-7 Navigator




A-8/PQ-8/TDC-2

AT-9




AT-10 Wichita

AT-11A Kansan




AT-17 Bobcat




AT-18 Hudson




AT-19 Reliant / UC-81




AT-21 Gunner




BT-9




BT-12




BT-13/BT-15/SNV Valiant




BT-14




N2T Tutor




N3N

NP-1




PT-13/N2S/PT-18




PQ-14

PT-15




PT-16,PT-20,PT-21, PT-22 Recruit




PT-19 Cornell




SBA/SBN




SNC Falcon




Stearman Model 75




TG-4A





Observation




O-46




O-47




O-49




O-51 Dragonfly




O-52 Owl




OA-




OS2U Kingfisher





Seaplanes





G-44 Widgeon




JF Duck




N-3PB




SC Seahawk




SO3C Seamew




SOC Seagull





Flying Boats




B-314 Clipper




Dolphin




G-21A Goose




H-4 (HK-1) Hercules




Hall PH




JRM Mars




JRS-1




JR2S-1 Excalibur




P2Y




PBM Mariner




PBN Nomad




PBY Catalina




PB2Y Coronado




XPBB-1 Sea Ranger




XP4Y-1 Corregidor





Helicopters and autogyros




KD-1




R-4 / HNS-1




R-5 / HO2S-1 / HO3S




R-6 / HOS-1




XR-1




YO-60





Reconnaissance




F-2




F-3 Havoc




F-4, F-5 Lightning




F-7 Liberator




F-15 Reporter




XF-11




XF-12 Rainbow







THE MEN

Deck Crew




Aircrew




At Ease




-------------------------




THE AIRCRAFT

On Deck




Takeoffs & Landings

In Flight




Aircraft Drawings


-------------------------
THE CARRIERS

The Carriers




In Battle




Targets




After The Battle


-------------------------
MISCELLANEOUS

The Island Bases




Tactics & Methods




Paintings




U.S. Navy Archives







---

Fighters




Mitsubishi A5M Type 96 "CLAUDE"




Mitsubishi A6M Type 0 "ZEKE"




Mitsubishi A6M3 Type 0 "HAMP"




Mitsubishi A7M Reppu "SAM"




Seversky A8V1 Type-S "DICK"




Nakajima AT-27 "GUS"




Nakajima J1N Gekko "IRVING"




Mitsubishi J2M Raiden "JACK"




Kawanishi J3K1 Jinpu




Mitsubishi J4M1 Senden "LUKE"




Nakajima J5N1 Tenrai




Kawanishi J6K1 Jinpu




Kyushu J7W1 Shinden




Mitsubishi J8M Shusui




Nakajima J8N1




Nagoya-Sento KI-001 "BEN"




Kawasaki Ki.10 Type 95 "PERRY"




Nakajima Ki.27 "NATE"




Nakajima Ki.43 Hayabusa "OSCAR"




Nakajima Ki.44 Shoki "TOJO"




Kawasaki Ki.45 Toryu "NICK"




Nakajima Ki.58




Kawasaki Ki.60




Kawasaki Ki.61 Hien "TONY"




Nakajima Ki.62




Nakajima Ki.6

3




Kawasaki Ki.64 "ROB"




Mansyu Ki.65




Mitsubishi Ki.73 "STEVE"




Kawasaki Ki.78




Mitsubishi Ki.83




Nakajima Ki.84 Hayate "FRANK"




Nakajima Ki.87




Kawasaki Ki.88




Tachikawa Ki.94




Kawasaki Ki.96




Mansyu Ki.98




Kawasaki Ki.100




Kawasaki Ki.102 "RANDY"




Tachikawa Ki.106




Kawasaki Ki 108




Mitsubishi Ki.109




Mansyu Ki. 116




Nakajima Ki 201 Karyu




Rikugun Ki.202




Nakajima Kikka




Kawanishi N1K1-J Shiden "GEORGE"




Kawanishi N1K2-J Shiden Kai "GEORGE"




Kawanishi N1K1 Kyofu "REX"




Aichi S1A Denko




Mitsubishi T.K.4 Type 0 "HARRY"




Mitsubishi Type 1 Fighter "RAY"




Bombers




Mitsubishi B-97 Darai "DORIS"




Mitsubishi G3M Type 96 "NELL"




Mitsubishi G4M Type 1 "BETTY"




Nakajima G5N Shinzan "LIZ"




Nakajima G8N Renzan "RITA"




Nakajima G10N1 Fugaku




Mitsubishi Ki.2 Type 93 "LOUISE"




Nakajima Ki 19




Mitsubishi Ki.21 Type 97 "SALLY"




Mitsubishi Ki.30 Type 97 "ANN"




Kawasaki Ki.32 Type 98 "MARY"




Kawasaki Ki.48 Type 99 "LILLY"




Nakajima Ki.49 Donryu "HELEN"




Mitsubishi Ki.67 Hiryu "PEGGY"




Tachikawa Ki.74 "PATSY/PAT"




Kawasaki Ki 91




Kawasaki Ki 119




Yokosuka P1Y Ginga "FRANCES"




Showa SHO-98 Type 98




Kawasaki Type 97 "JULIA"




Mitsubishi Type 97 "NORMA"




Attack




Kawanishi Baika




Kawanishi J3K1 Jinpu




Kawanishi J6K1 Jinpu




Mitsubishi Ki.51 Type 99 "SONIA"




Rikugun Ki.93




Mansyu Ki 98




Mizuno Shinryu




Nakajima Ki 115 Tsurugi




Yokosuka MXY8 Ohka "BAKA"




Yokosuka R2Y2 Keiun




Dive Bombers





Aichi B7A Ryusei "GRACE"




Aichi D1A2 Type 96 "SUSIE"




Aichi D3A Type 99 "VAL"




Yokosuka D3Y Myojo




Yokosuka D4Y Suisei "JUDY"




Kawasaki Ki.66




Torpedo Bombers




Nakajima/Yokosuka

B4Y1 Type 96 "JEAN"
Mitsubishi B5M1 Type 97-2 "MABEL"
Nakajima B5N Type 97 "KATE"
Nakajima B6N Tenzan "JILL"
Aichi B7A Ryusei "GRACE"
Cargo/Transport
Nakajima (Douglas) DC-2 "TESS"
Mitsubishi Ki-33 Type 96 "TINA"
Nakajima Ki.34 Type 97 "THORA"
Tachikawa Ki.54c "HICKORY"
Tachikawa Ki 55
Kawasaki Ki.56 Type 1 "THALIA"
Mitsubishi Ki.57 Type 100 "TOPSY"
Kokusai Ki.59 Type 1 "THERESA"
Kokusai Ki 105 Ohtori
Tachikawa Ki.110 "HICKORY"
Tachikawa Ki.111 "HICKORY"
Tachikawa Ki.114 "HICKORY"
Kokusai Ku-7 Manazura
Kokusai Ku.8 Type 4 "GANDER"
Nakajima L1N1"THORA"
Nakajima L2D Type 0 "TABBY"
Yokosuka L3Y "TINA"
Mitsubishi L4M1 Type 0 "TOPSY"
Kawasaki Type LO "THELMA"
Kawasaki-Lockheed 14 WG3 "TOBY"
Trainers
Nakajima A4N1 Type 95
Yokosuka D3Y Myojo
Yokosuka K2Y1 / K2Y2
Mitsubishi/Watanabe K3M3 Type 90-2 "PINE"
Yokosuka K4Y1
Yokosuka K5Y Type 93 "WILLOW"
Kyushu K9W1 Type 2 "CYPRESS"
Kyushu K10W1 Type 2 "OAK"
Kyushu K11W Shiragiku
Tachikawa Ki.9 Type 95-1 "SPRUCE"
Tachikawa Ki.17 Type 95-3 "CEDAR"
Tachikawa Ki.54 Type 1 "HICKORY"
Tachikawa/Kawasaki Ki.55 Type 99 "IDA"
Mansyu Ki.79
Kokusai Ki 86 Type 4 "CYPRESS"
Tokyo Koku Ki.107
Aichi M6A1-K Nanzan
Seaplanes
Nakajima A6M2-N Type 2 "RUFE"
Aichi AI-104 Type 98 "IONE"
Kawanishi E7K Type 94 "ALF"
Nakajima E8N Type 95 "DAVE"
Watanabe E9W1 Type 96 "SLIM"
Aichi EI0AI Type 96 "HANK"
Aichi E11A1 Type 98 "LAURA"
Aichi E13A Type 0 "JAKE"
Watanabe E13A Type 0 "JAKE"
Yokosuka E14Y1 Type 0 "GLEN"
Kawanishi E15K1 Shiun "NORM"
Aichi E16A1 Zuiun "PAUL"
Mitsubishi F1M2 Type 0 "PETE"
Aichi M6A Seiran
Kawanishi N1K1 Kyofu "REX"
Nakajima SKT-97 "ADAM"
Aichi Type 97 "BOB"
Flying Boats
Kawanishi H3K1 Type 90-2 "BELLE"
Yokosuka H5Y1 Type 99 "CHERRY"
Kawanishi H6K Type 97 "MAVIS"
Hiro/Yokosuka H7Y1 12-Shi "TILLIE"
Kawanishi H8K Type 2 "EMILY"
Aichi H9A
Anti-submarine
Kyushu Q1W1 Tokai "LORNA"
Tachikawa Ki.54d "HICKORY"
Reconnaissance
Nakajima C3N1 Type 97
Mitsubishi C5M Type 98 "BABS"
Nakajima C6N Saiun "MYRT"
Mitsubishi Ki.15 Type 97 "BABS"
Mitsubishi Ki.46 Type 100 "DINAH"
Tachikawa Ki.70 "CLARA"
Mansyu Ki.71 "EDNA"
Tachikawa Ki.74 "PATSY/PAT"
Yokosuka R2Y1 Keiun






































































Hellcat, USS Saratoga 1943

WWII Aircraft Facts

No matter how one looks at it, these are incredible statistics. Aside from the figures on aircraft, consider this statement from the article: On average 6600 American service men died per MONTH, during WWII (about 220 a day). Most Americans who were not adults during WWII have no understanding of the magnitude of it. This listing of some of the aircraft facts gives a bit of insight to it.

276,000 aircraft manufactured in the US .
43,000 planes lost overseas, including 23,000 in combat.
14,000 lost in the continental U.S.

The US civilian population maintained a dedicated effort for four years, many working long hours seven days per week and often also volunteering for other work. WWII was the largest human effort in history.

Statistics from Flight Journal magazine.

THE COST of DOING BUSINESS

—- The staggering cost of war.

THE PRICE OF VICTORY (cost of an aircraft in WWII dollars)

B-17 $204,370. P-40 $44,892.
B-24 $215,516. P-47 $85,578.
B-25 $142,194. P-51 $51,572.
B-26 $192,426. C-47 $88,574.
B-29 $605,360. PT-17 $15,052.
P-38 $97,147. AT-6 $22,952.

PLANES A DAY WORLDWIDE

From Germany 's invasion of Poland Sept. 1, 1939 and ending with Japan 's surrender Sept. 2, 1945 — 2,433 days. From 1942 onward, America averaged 170 planes lost a day.

How many is a 1,000 planes? B-17 production (12,731) wingtip to wingtip would extend 250 miles. 1,000 B-17s carried 2.5 million gallons of high octane fuel and required 10,000 airmen to fly and fight them.

THE NUMBERS GAME
9.7 billion gallons of gasoline consumed, 1942-1945.
107.8 million hours flown, 1943-1945.
459.7 billion rounds of aircraft ammo fired overseas, 1942-1945.
7.9 million bombs dropped overseas, 1943-1945.
2.3 million combat sorties, 1941-1945 (one sortie = one takeoff).
299,230 aircraft accepted, 1940-1945.
808,471 aircraft engines accepted, 1940-1945.
799,972 propellers accepted, 1940-1945.

WWII MOST-PRODUCED COMBAT AIRCRAFT
Ilyushin IL-2 Sturmovik 36,183
Yakolev Yak-1,-3,-7, -9 31,000+
Messerschmitt Bf-109 30,480
Focke-Wulf Fw-190 29,001
Supermarine Spitfire/Seafire 20,351
Convair B-24/PB4Y Liberator/Privateer 18,482
Republic P-47 Thunderbolt 15,686
North American P-51 Mustang 15,875
Junkers Ju-88 15,000
Hawker Hurricane 14,533
Curtiss P-40 Warhawk 13,738
Boeing B-17 Flying Fortress 12,731
Vought F4U Corsair 12,571
Grumman F6F Hellcat 12,275
Petlyakov Pe-2 11,400
Lockheed P-38 Lightning 10,037
Mitsubishi A6M Zero 10,449
North American B-25 Mitchell 9,984
Lavochkin LaGG-5 9,920
Note: The LaGG-5 was produced with both water-cooled (top) and air-cooled (bottom) engines.
Grumman TBM Avenger 9,837
Bell P-39 Airacobra 9,584
Nakajima Ki-43 Oscar 5,919
DeHavilland Mosquito 7,780
Avro Lancaster 7,377
Heinkel He-111 6,508
Handley-Page Halifax 6,176
Messerschmitt Bf-110 6,150
Lavochkin LaGG-7 5,753
Boeing B-29 Superfortress 3,970
Short Stirling 2,383
Sources: Rene Francillon, Japanese Aircraft of the Pacific war; Cajus Bekker, The Luftwaffe Diaries; Ray Wagner, American Combat Planes; Wikipedia.

According to the AAF Statistical Digest, in less than four years (December 1941- August 1945), the US Army Air Forces lost 14,903 pilots, aircrew and assorted personnel plus 13,873 airplanes — inside the continental United States. They were the result of 52,651 aircraft accidents (6,039 involving fatalities) in 45 months.

Think about those numbers. They average 1,170 aircraft accidents per month—- nearly 40 a day. (Less than one accident in four resulted in totaled aircraft, however.)

It gets worse…..

Almost 1,000 Army planes disappeared en route from the US to foreign climes. But an eye-watering 43,581 aircraft were lost overseas including 22,948 on combat missions (18,418 against the Western Axis) and 20,633 attributed to non-combat causesoverseas.

In a single 376 plane raid in August 1943, 60 B-17s were shot down. That was a 16 percent loss rate and meant 600 empty bunks in England . In 1942-43 it was statistically impossible for bomber crews to complete a 25-mission tour in Europe .

Pacific theatre losses were far less (4,530 in combat) owing to smaller forces committed. The worst B-29 mission, against Tokyo on May 25, 1945, cost 26 Superfortresses, 5.6 percent of the 464 dispatched from the Marianas .

On average, 6,600 American servicemen died per month during WWII, about 220 a day. By the end of the war, over 40,000 airmen were killed in combat theatres and another 18,000 wounded. Some 12,000 missing men were declared dead, including a number "liberated" by the Soviets but never returned. More than 41,000 were captured, half of the 5,400 held by the Japanese died in captivity, compared with one-tenth in German hands. Total combat casualties were pegged at 121,867.

US manpower made up the deficit. The AAF's peak strength was reached in 1944 with 2,372,000 personnel, nearly twice the previous year's figure.

The losses were huge—but so were production totals. From 1941 through 1945, American industry delivered more than 276,000 military aircraft. That number was enough not only for US Army, Navy and Marine Corps, but for allies as diverse as Britain , Australia, China and Russia . In fact, from 1943 onward, America produced more planes than Britain and Russia combined. And more than Germany and Japan together 1941-45.

However, our enemies took massive losses. Through much of 1944, the Luftwaffe sustained uncontrolled hemorrhaging, reaching 25 percent of aircrews and 40 planes a month. And in late 1944 into 1945, nearly half the pilots in Japanese squadrons had flown fewer than 200 hours. The disparity of two years before had been completely reversed.

Experience Level:
Uncle Sam sent many of his sons to war with absolute minimums of training. Some fighter pilots entered combat in 1942 with less than one hour in their assigned aircraft.
The 357th Fighter Group (often known as The Yoxford Boys) went to England in late 1943 having trained on P-39s. The group never saw a Mustang until shortly before its first combat mission.

A high-time P-51 pilot had 30 hours in type. Many had fewer than five hours. Some had one hour.

With arrival of new aircraft, many combat units transitioned in combat. The attitude was, "They all have a stick and a throttle. Go fly `em." When the famed 4th Fighter Group converted from P-47s to P-51s in February 1944, there was no time to stand down for an orderly transition. The Group commander, Col. Donald Blakeslee, said, "You can learn to fly `51s on the way to the target.

A future P-47 ace said, "I was sent to England to die." He was not alone. Some fighter pilots tucked their wheels in the well on their first combat mission with one previous flight in the aircraft. Meanwhile, many bomber crews were still learning their trade: of Jimmy Doolittle's 15 pilots on the April 1942 Tokyo raid, only five had won their wings before 1941. All but one of the 16 copilots were less than a year out of flight school.

In WWII flying safety took a back seat to combat. The AAF's worst accident rate was recorded by the A-36 Invader version of the P-51: a staggering 274 accidents per 100,000 flying hours. Next worst were the P-39 at 245, the P-40 at 188, and the P-38 at 139. All were Allison powered.

Bomber wrecks were fewer but more expensive. The B-17 and B-24 averaged 30 and 35 accidents per 100,000 flight hours, respectively– a horrific figure considering that from 1980 to 2000 the Air Force's major mishap rate was less than 2.

The B-29 was even worse at 40; the world's most sophisticated, most capable and most expensive bomber was too urgently needed to stand down for mere safety reasons. The AAF set a reasonably high standard for B-29 pilots, but the desired figures were seldom attained.

The original cadre of the 58th Bomb Wing was to have 400 hours of multi-engine time, but there were not enough experienced pilots to meet the criterion. Only ten percent had overseas experience. Conversely, when a $2.1 billion B-2 crashed in 2008, the Air Force initiated a two-month "safety pause" rather than declare a "stand down", let alone grounding.

The B-29 was no better for maintenance. Though the R3350 was known as a complicated, troublesome power-plant, no more than half the mechanics had previous experience with the Duplex Cyclone. But they made it work.

Navigators:
Perhaps the greatest unsung success story of AAF training was Navigators. The Army graduated some 50,000 during the War. And many had never flown out of sight of land before leaving "Uncle Sugar" for a war zone. Yet the huge majority found their way across oceans and continents without getting lost or running out of fuel — a stirring tribute to the AAF's educational establishments.

Cadet To Colonel:
It was possible for a flying cadet at the time of Pearl Harbor to finish the war with eagles on his shoulders. That was the record of John D. Landers, a 21-year-old Texan, who was commissioned a second lieutenant on December 12, 1941. He joined his combat squadron with 209 hours total flight time, including 2� in P-40s. He finished the war as a full colonel, commanding an 8th Air Force Group — at age 24.
As the training pipeline filled up, however those low figures became exceptions.
By early 1944, the average AAF fighter pilot entering combat had logged at least 450 hours, usually including 250 hours in training. At the same time, many captains and first lieutenants claimed over 600 hours.

FACT:
At its height in mid-1944, the Army Air Forces had 2.6 million people and nearly 80,000 aircraft of all types.
Today the US Air Force employs 327,000 active personnel (plus 170,000 civilians) with 5,500+ manned and perhaps 200 unmanned aircraft.
The 2009 figures represent about 12 percent of the manpower and 7 percent of the airplanes of the WWII peak.





























List of World War II military aircraft of Germany

This list covers aircraft of Nazi Germany that served in the Luftwaffe during the Second World War as defined by the years 1939 to 1945. Number designations are largely by the RLM designation system, although in this list they are partially organized by manufacturer and role.
The Luftwaffe of the Third Reich officially existed from 1933–1945; training for a German air force had been going on as early as the 1920s, before the Nazis came to power. The first list attempts to focus on the more significant aircraft that participated in the main part of the war. The second is a more all-encompassing list to include the time before, although projects are not covered.
Captured aircraft also have a list. Internal projects of manufacturers are not listed, nor are many prototypes. A list of aircraft of the period from 1933–1945 can be found at list of RLM aircraft designations in the form of the Reich Aviation Ministry's list of aircraft. Planes from all branches are currently listed.


A plane's number was usually related to its RLM designation and sometimes to its manufacturer (foreign ones with captured aircraft). The RLM-GL/C designations are not all correct and sometimes are used twice. The RLM would sometimes reassign numbers. Some pre-1933 aircraft just used their company names, etc. The Aircraft names are the most common names. Other key data are sometimes listed afterward. See RLM aircraft designation system for a full explanation of the RLM system.


[edit]Primary aircraft

This list does not primarily include projects, prototypes or captured aircraft but consists mostly of the most common aircraft of the German Luftwaffe that participated in the Second World War. A full list of project aircraft and captured aircraft can be found at list of RLM aircraft designations in the form of the Reich Aviation Ministry's list of aircraft.
See German aircraft production during World War II for the most produced types.


[edit]German military aircraft, 1919–1945

While the Luftwaffe was not public until 1935, it had been in development in secret since the 1920s, and many aircraft made in the inter-war years were used during World War II.


[edit]Fighters and interceptors

[edit]Bombers and ground attack

[edit]Patrol and reconnaissance

[edit]Transports and utility

[edit]Trainers

Helicopters

Captured aircraft

Related content

]See also

External links









WWII Aircraft Facts





B-24

B-17

C-47 near Bastogne 1944

Wildcat 1943


B-17 ball turret 1942

B-26's v Moselle bridge Dec 44

B-17 waist gunner

In England

Devastator 1941

Helldivers on US carrier

B-17's, Stuttgart raid, Sep 6th 1943

Instructor/cadet, USA 1942

Dauntless at San Diego





B-17


Dauntlesses near Midway


Ground attack training, New York 1942


PBY, Seattle 1944


B-24


Enterprise 1942


Chute packer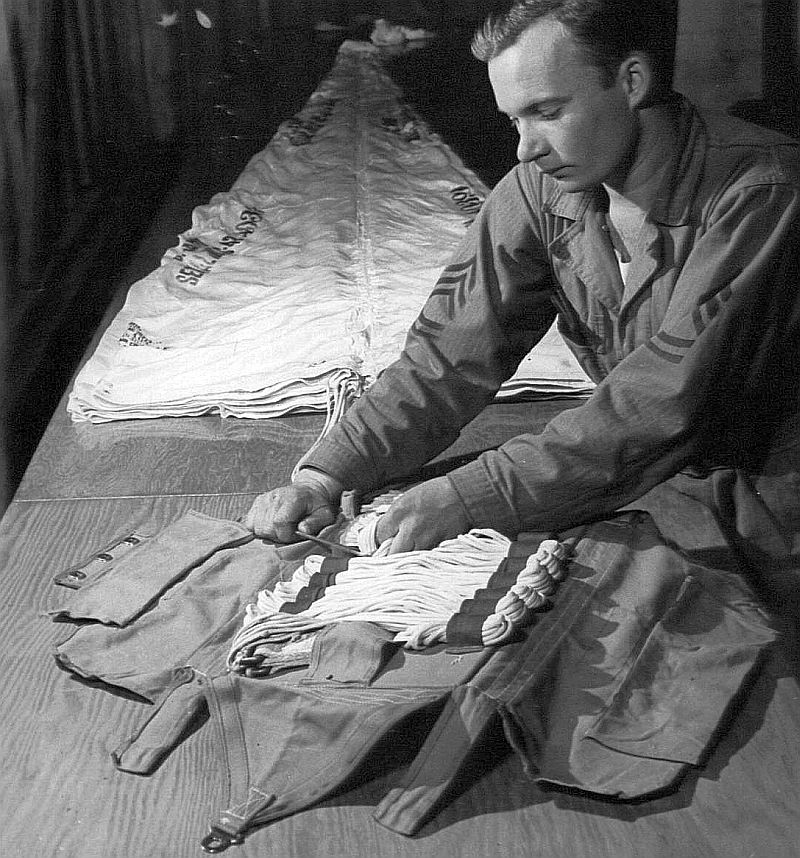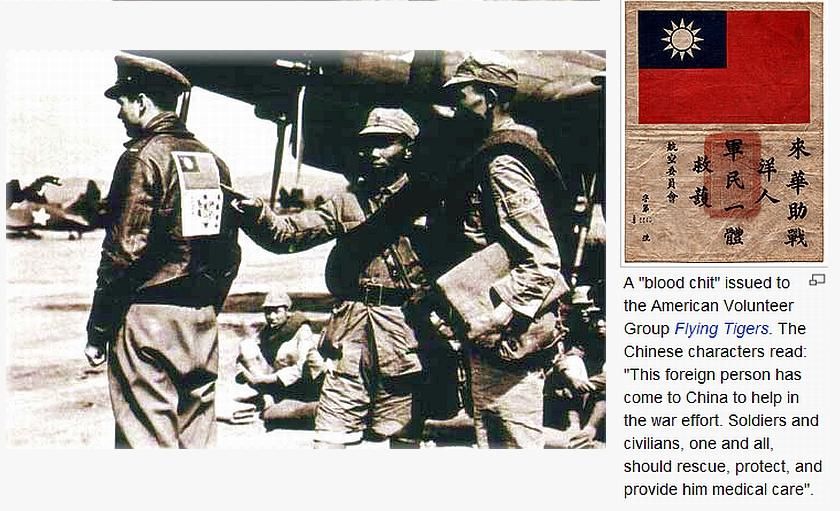 B-17

B-24


Hellcat on Yorktown 1943


US Victory flight over Tokyo, 1945, battleship USS Missouri in left foreground


B-17, Pearl Harbor Dec 7th 1941


Dauntless

Piper


Experimental Douglas XB-19


American Dick Patterson in RAF with his Spitfire Nov 41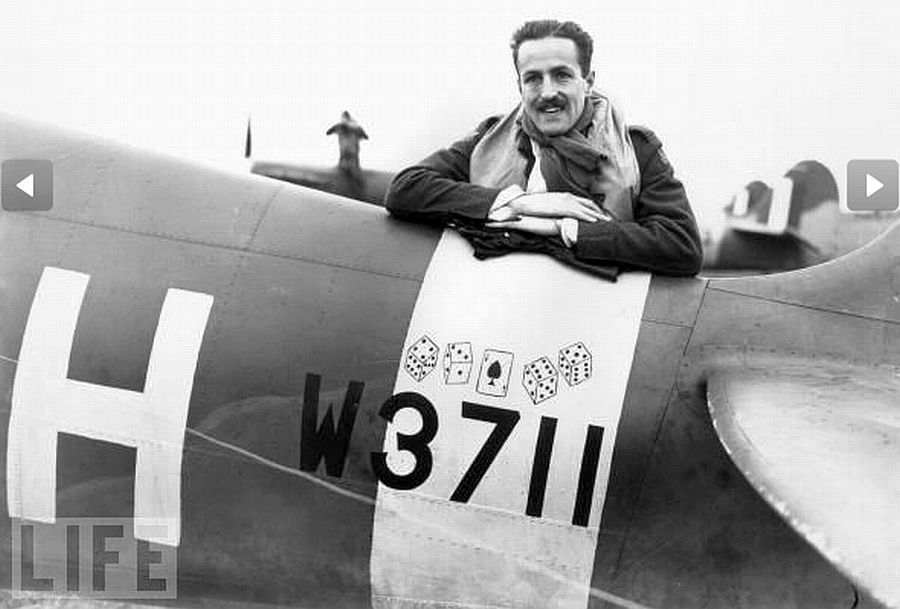 Harvard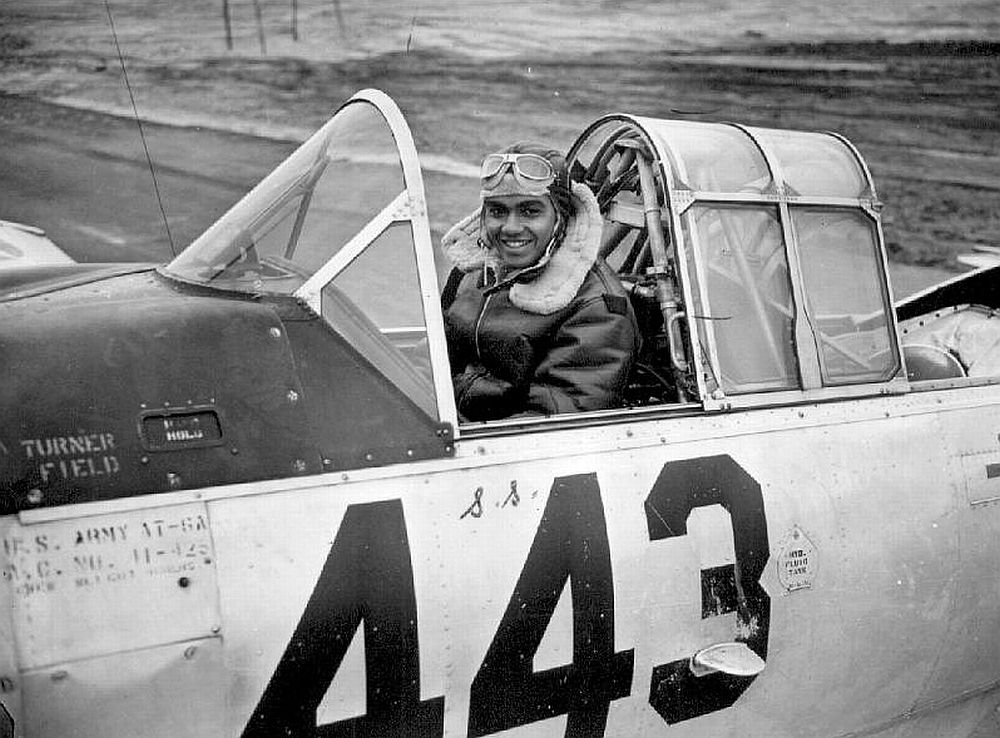 Wreck of the US Liberator 'Lady be Good' in the Nth African desert 380 miles south of Tobruk.
It took off from the Benghazi area in 1943 to bomb Naples at night but overshot on the way back due to navigation error, and the crew bailed when fuel ran out, thinking they were still over the Mediterranean.
All but one of their bodies were recovered after the war.


LBG


LBG


B-29


Ryan PT-22 'Recruit'


C-46, Far East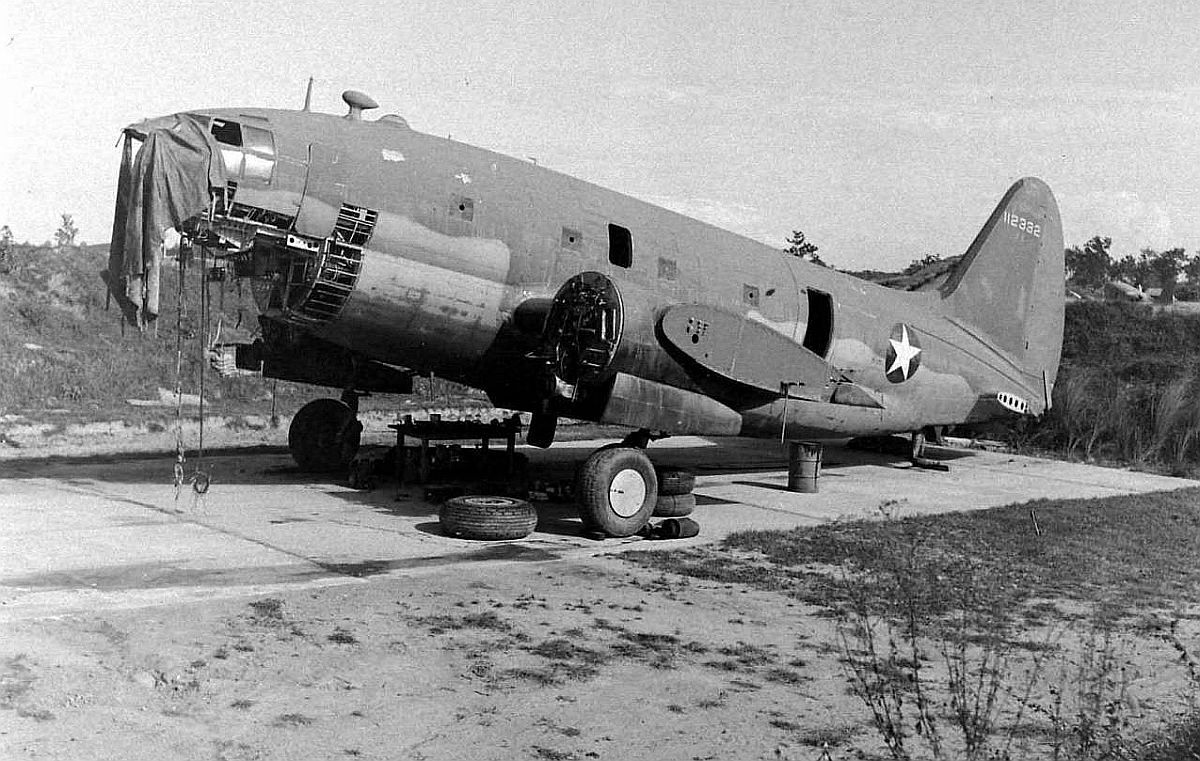 Mappers


Boeing P-26


Air Force Intelligence School 1944


B-17


B-29's

P-51


Wildcat


Waco CG-4 Hadrian


Bob Stephens, P-51 pilot


Sikorsky S43 and target drogue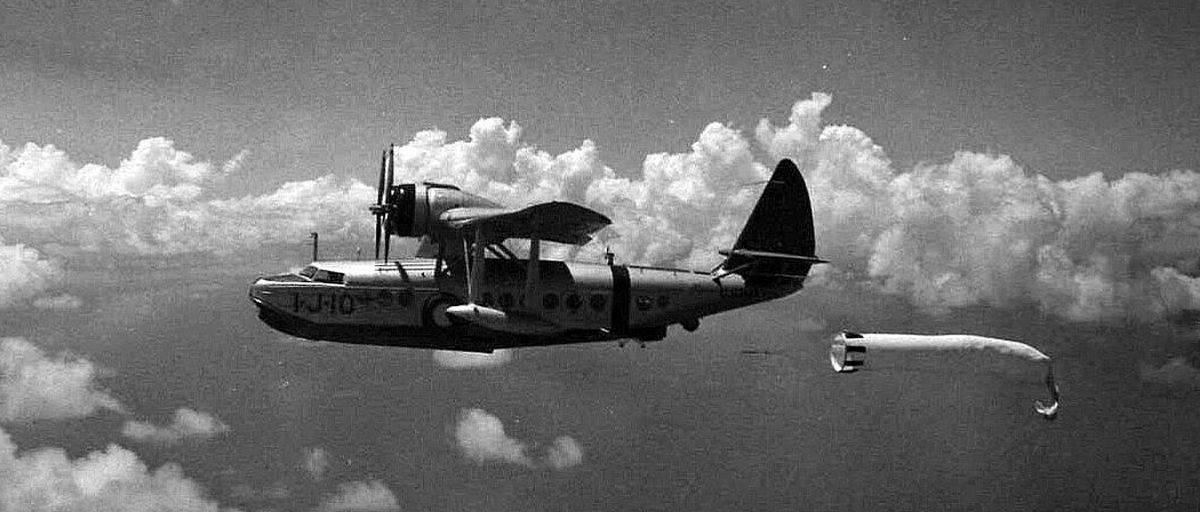 Kingfisher


Dauntless



P-47


P-47 rocket tubes

P-40's, Nth Africa


P-51 pilot Joe Peterburs


Mustang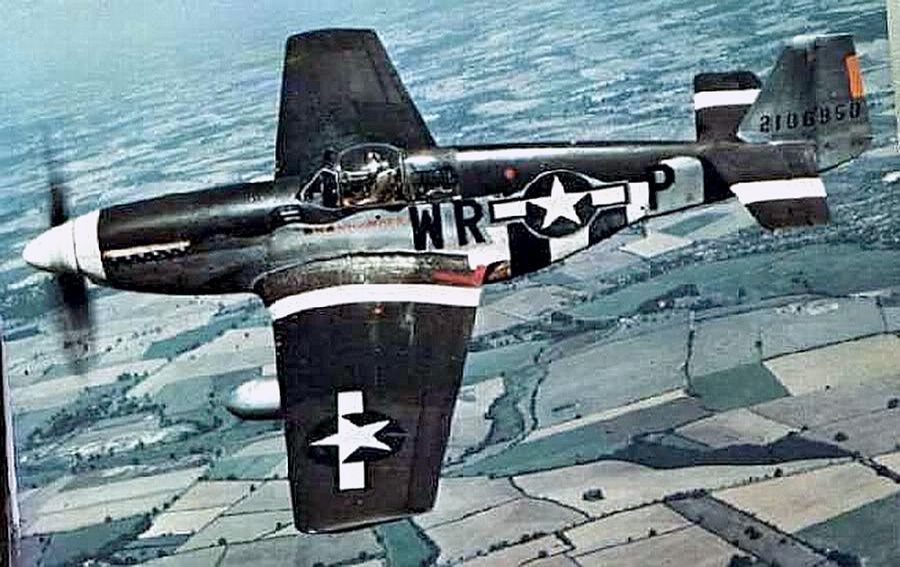 P-47


P-39 Airacobra

P-38, UK 1942


P-38


B-17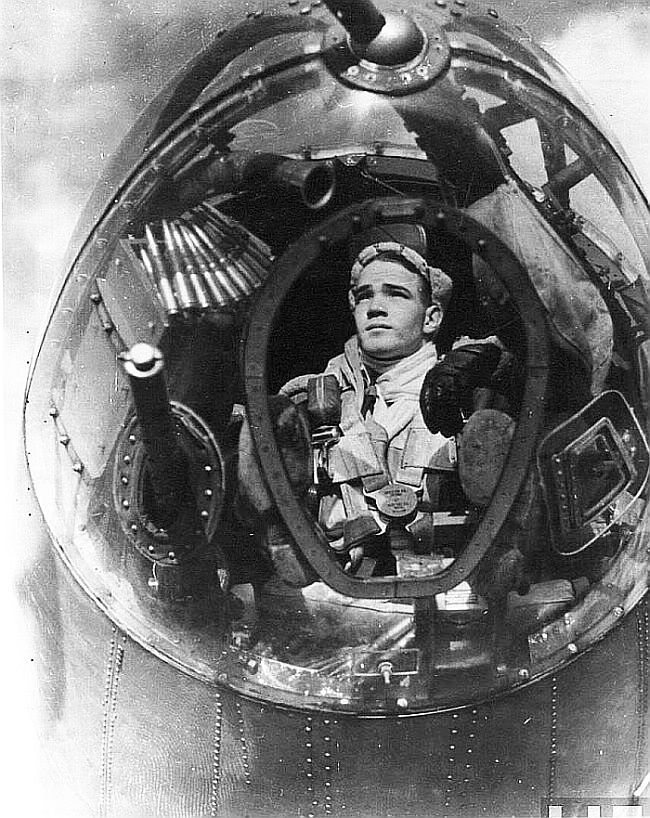 P-40, Nth Africa


Sighthead of Norden bombsight being taken aboard a BeechcraftAT-11, Texas, probably Midland AAF in 1942.
Caption from Jim- "I thought you might like some more information on the Norden bombsight ... My Dad was a Bombardier in WW2 and he told me a lot about it over the years. The Norden bombsight was composed of two pieces (see the 2nd picture below). Each bombardier carried the "sighthead" to the airplane before each mission. The main bombsight was permanently installed in the aircraft since it was connected to the autopilot, bomb doors, bomb releases, and so on. Just thought I would let you know the photo doesn't show a "new" bombsight being installed, it just shows a student bombardier arriving for his training mission (as shown by the AT-11) . If you look in the nose, the permanently installed part of the Norden is covered with a canvas. This was probably taken at Midland AAF, Texas which was a Bombardier training base. My Dad used to tell me that overseas (he was in Australia and New Guinea) he carried a .45 Automatic and was supposed to shoot anybody that tried to take the bag away from him."

Mustang pilots


B-24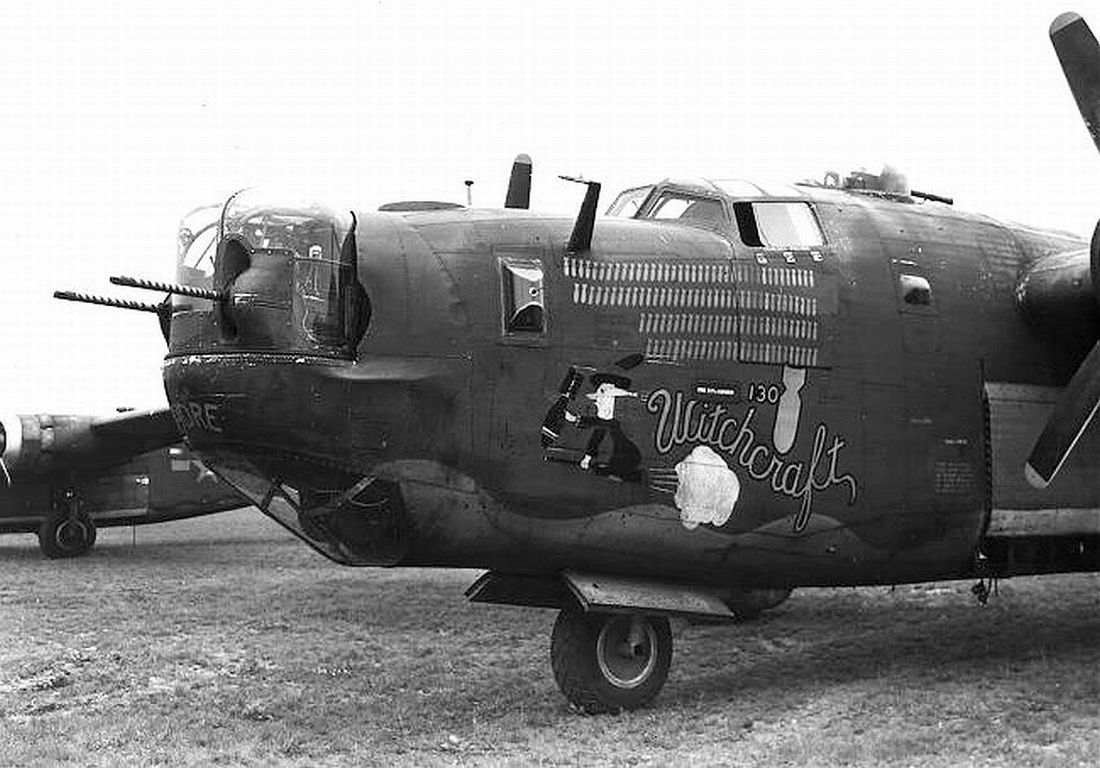 Marines glider, Parris Island 1942


B-24's


Devastators off Hawaii, USS Enterprise Torpedo Sqn 6, 1941 prewar.
More details from Jim- Tail colors assigned to the US Carriers between the wars-
CV-2 Lexington - Lemon Yellow
CV-3 Saratoga - White
CV-4 Ranger - Willow Green
CV-5 Yorktown - Insignia Red
CV-6 Enterprise - True Blue
CV-7 Wasp - Black
Example: True Blue tail = These are from USS Enterprise CV-6 (also verified by the "6-T-*" on each aircraft), so the
caption for the photo could be: "Douglas TBD Devastators from Torpedo Squadron 6, USS Enterprise off Hawaii"

Hellcat pilots, Lexington 1943


Langley Field, Virginia 1943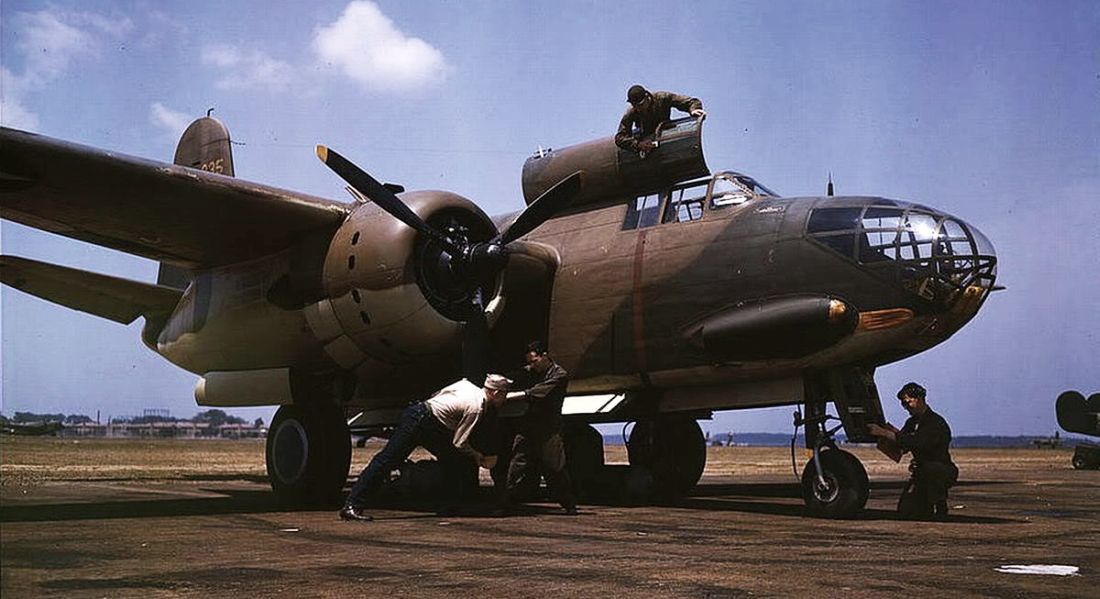 Igor Sikorsky at the controls of his early helicopter


Sikorsky airborne


Kingfisher

There are a total of 355 WW2 Aircraft in the Military Factory. Entries are listed below in alphanumeric order. Flag images indicative of country of origin.

1921
Aero A.11
The Aero A.11 was a highly successful, multi-faceted performer for the Czech Army Air Force in the interwar years between Wor...


1937
Aero A.304
The Aero A.304 originally began life as the Aero A.204 passenger airliner produced by Aero Vodochody of Czechoslovakia. The p...


1944
Aichi B7A Ryusei (Grace)
The Aichi-produced B7A Ryusei (translated to "Shooting Star" and nicknamed "Grace" by the Allies) was a limited-production to...


1940
Aichi D3A (Val)
The D3A series of aircraft (dubbed "Val" by the Allies) were thought to be all but extinct when the war in the Pacific began....


1941
Aichi E13A (Jake)
Based on number alone, the Aichi production E13A series of floatplanes (dubbed "Jake" by the Allies) was the most important s...


1944
Aichi E16A Zuiun (Paul)
The E16A Zuiun (translated into "Auspicious Cloud" and codenamed "Paul" by the Allies) was a dedicated reconnaissance floatpl...


1945
Aichi M6A Seiran
This oft-forgotten Aichi design was classified as an attack floatplane that was designed to be carried aboard the Japanese Na...


1941
Airspeed Horsa
...


1937
Airspeed Oxford
The Airspeed Oxford was a critical component of the British and Commonwealth forces aerial training program during World War ...


1935
Amiot 143
The Amiot 143 of the French Air Force represented an evolution in the Amiot piston-engine bomber series that replaced the Ami...


1940
Amiot 354
The Amiot 354 bomber and reconnaissance platform was a quite capable aircraft when war broke out over France. The system had ...


1933
ANF Les Mureaux (Series)
The ANF les Mureaux series of light observation aircraft first appeared during the inter-war years between World War 1 and Wo...


1937
Arado Ar 195
The Arado Ar 195 was prototype design intended for operations from Germany's first aircraft carrier known as the Graf Zeppeli...


1939
Arado Ar 196
The Arado Ar 196 was the principle floatplane of the German Luftwaffe throughout World War 2. The aircraft was showcased in q...


1941
Arado Ar 232 Tausendfussler (Millipede)
The Arado aircraft firm produced one of the more identifiable transport aircraft of the Luftwaffe during the Second World War...


1944
Arado Ar 234 Blitz (Lightning)
The Arado Ar 234 "Blitz" (or "Lightning") was part of the German success with turbojet development in the latter years of Wor...


1940
Arado Ar 240
The Arado Ar 240 was designed to an RLM 1938 response to replace the twin engine, two seat Messerschmitt BF 110 Zerstorer hea...


1934
Arado Ar 68
The Arado-production of the Ar 68 signaled a stepping stone for fighter design in the German Luftwaffe. With the air force br...


1943
Arado Ar E.340
The Arado-produced Ar E.340 was designed to a German requirement for a twin-engined bomber to replace the aging Junkers Ju 88...


1944
Arado Ar E.381
The Ar E.381-series of prototypes was submitted in 1944 for review by the German Air Ministry. Whilst a plethora of companies...


1936
Arado Ar E.500
The E.500 was a proposed heavy fighter design put forth by Arado Flugzeugwerke of Germany. The system was designed as early a...


1940
Arado Ar E.530
The idea of twin fuselage aircraft was always in the minds of military aircraft engineers throughout the Second World War. Co...


1943
Arado Ar E.555
Arado proposed this E.555 flying wing concept towards the end of 1943 as a high-speed long-range bomber. The flying wing conc...


1945
Arado Ar E.560
The Arado E.560 series of developmental high-speed jet bombers saw a large evolution on paper. Design of the platform centere...


1937
Arado Ar E.561
The Arado Ar E.561 was on the drawing boards as early as 1937. Classified as a heavy fighter, the type would have lived and d...


1944
Arado Ar E.580
Once the Volksjager competition came around in 1944, Arado Flugzeugwerke went back to a 1943 design it had had and touched it...


1944
Arado Ar E.581.4
The Arado Ar E.581.4 was conceived of as a single-seat jet fighter utilizing a delta-wing shape. The system was not a "true" ...


1943
Arado Ar E.654 (Kampfzerstorer / Skorpion)
The Arado Ar E.654 was proposed as a heavy fighter / destroyer platform designed from another Arado product - the Ar 240. Th...


1944
Arado Ar Projekt I
The Arado "Projekt I" was intended to be a two-man jet-powered night fighter. The aircraft featured a slender yet short fusel...


1945
Arado Ar Projekt II
The Arado Ar Projekt II was a proposed jet-powered fighter of considerable size. It carried a basic classification of nightfi...


1943
Arado Ar TEW 16/43-13
The Arado Ar TEW 16/43-13 was a design concept envisioned as a rocket-propelled interceptor for the German Luftwaffe. The des...


1943
Arado Ar TEW 16/43-15
The Arado Ar TEW 16/43-15 concept was born out of an in-house research project studying the possibilities of jet-powered figh...


1943
Arado Ar TEW 16/43-19
With development of the advanced twin-engine, jet-powered Ar 234 "Blitz" bomber coming along, the Arado firm turned its atten...


1943
Arado Ar TEW 16/43-23
The single-seat, jet-powered Arado Ar TEW 16/43-23 design was penciled sometime in 1943. Categorized as a fighter, the type m...


1941
Armstrong Whitworth Albemarle
The Armstrong Whitworth Albemarle became one of those aircraft designs that evolved into a role not initially envisioned. The...


1936
Armstrong Whitworth Ensign
The impressive Armstrong Whitworth Ensign AW.27 series was made originally designed to a 1934 British government requirement ...


1924
Armstrong Whitworth Siskin
The Armstrong Whitworth Siskin (a siskin being a smallish yellow-tinged finch) was the primary air mount of many-a-Royal Air ...


1937
Armstrong Whitworth Whitley
Continuing in the tradition of ugly yet robust and reliable heavy bombers, the British Armstrong Whitworth Whitley was the he...


1934
Avia B.534
The Czechoslovakian Avia B.534 series of biplane was a highly regarded though often forgotten product of the European nation....


1933
Avro 621 Tutor
The Avro 621 Tutor was a primary component of RAF and RN pilot training in the interwar years. Developed from the World War 1...


1936
Avro Anson
The Avro Anson was a militarized version of the commercial passenger transport Avro 652. The Anson itself was produced to ful...


1941
Avro Lancaster
The Avro Lancaster is regarded by many as the best bomber of either side in the Second World War. The system proved quite cap...


1940
Avro Manchester
The Avro Manchester was a semi-successful attempt by the Avro firm to fulfill Air Ministry Specification P.13/36. The specifi...


1945
Bachem Ba 349 Natter (Adder / Viper)
The Bachem Ba 349 Natter (translated to "Adder" though also known as the "Viper") was one of the late-war German aircraft ini...


1940
Beech AT-10 Wichita
...


1941
Beechcraft C-45 (Expeditor)
The Beechcraft C-45 was based on the Beech Aircraft Corporation's civilian-minded Model 18 "Twin Beech" series. First flight ...


1944
Beechcraft XA-38 Grizzly / Destroyer (Model 28)
The XA-38 was a developmental twin-engine heavy fighter produced by the Beech Aircraft firm. By all accounts, she was a stabl...


1941
Bell P-39 Airacobra
The Bell P-39 Airacobra is yet another in the long line aircraft studies stemming from World War 2 in the "what-might-have be...


1942
Bell P-59 Airacomet
The Bell-produced P-59 Airacomet series is one of those aircraft that becomes more of a study in American jet pioneering than...


1943
Bell P-63 Kingcobra
At its core, the Bell P-63 Kingcobra proved a modest improvement over the relative failure that was the P-39 Airacobra. Thoug...


1940
Bell XFL Airabonita
The XFL "Airabonita" was a Bell Aircraft Company product developed in parallel with the P-39 Airacobra, a land-based USAAF de...


1940
Bell XFM-1 Airacuda
In the same way that the XFM-1 Airacuda was a "different" sort of aircraft, the Bell company itself was "different sort" of a...


1945
Bell XP-83
In 1942, with World War in full swing across Europe and the Pacific, work began on an American turbo jet-powered aircraft to ...


1942
Berezniak-Isayev BI-1
...


1935
Beriev Be-2 / MBR-2
The Beriev Be-2 was one of the few flying boats of note fighting for the Soviet Union throughout World War 2 as very little i...


1939
Bloch MB.150 (Series)
The Bloch MB.150 was a family of modern, all-metal monoplane fighter types developed for the French Air Force prior to World ...


1935
Bloch MB.210
...


1940
Blohm & Voss Bv 138
The Blohm and Voss (also written as "Blohm und Voss" or "Blohm & Voss") Bv 138 was a German flying boat that saw quantitative...


1938
Blohm & Voss Bv 141
While the Blohm & Voss (or "Blohm und Voss") aircraft firm will forever be linked to their many successful floatplanes and fl...


1941
Blohm & Voss Bv 222 Wiking (Viking)
The Blohm & Voss Bv 222 Wiking (translating to "Viking") was a large German flying boat design of World War 2. The behemoth s...


1944
Blohm & Voss Bv 238
The mammoth Blohm & Voss Bv 238 was the next evolution in the Blohm & Voss flying boat series for Germany during World War Tw...


1939
Boeing 314 Clipper (C-98)
The Boeing Model 314 "Clipper" was a flying boat developed by Boeing Aircraft Company to fulfill a Pan American requirement f...


1937
Boeing B-17 Flying Fortress
Though the Consolidated B-24 Liberator was built in greater numbers, the Boeing B-17 Flying Fortress is often regarded as the...


1943
Boeing B-29 Superfortress
B-29 Superfortress status is often associated with the atomic bombs dropped on the Japanese cities of Hiroshima and Nagasaki ...


1932
Boeing P-26 Peashooter
The P-26 became the first all-metal fighter design for the United States. Appearing similar to the later "Gee Bee" series of ...


1941
Boeing-Stearman Kaydet
When The Boeing Company acquired the Stearman company in 1939, it also acquired the design and production rights to the promi...


1937
Boulton Paul Defiant
The inter-war years saw a vast shift to more modern and potent aircraft platforms. The Boulton Paul Defiant followed as only ...


1937
Breda Ba.64
...


1936
Breda Ba.65
The Breda Ba.65 was a ground attack aircraft serving primarily with the Italian Air Force (Regia Aeronautica) in the years le...


1937
Brewster F2A Buffalo
The stubby F2A Buffalo series became the United States Navy's first operational aircraft of monoplane design. Despite this ho...


1943
Brewster XA-32
The United States Army Air Corps appreciated the tactical scope of the German Luftwaffe Junkers Ju 87 "Stuka" dive bombers an...


1939
Bristol Beaufighter
Serving until the 1960s with the Royal Air Force, the Bristol Beaufighter (or simply "Beau") became a national hero through h...


1940
Bristol Beaufort
The Bristol Beaufort enjoyed a strong run between the war years of 1940-1943 as the primary British torpedo bomber in service...


1935
Bristol Blenheim
The Bristol Blenheim billed as a bomber though when it was officially installed into operational active service, the aircraft...


1942
CAC Boomerang
The Commonwealth Boomerang (also known as the Commonwealth Aircraft Corporation - or "CAC" - Boomerang) was of completely Aus...


1941
CAC Wackett
...


1939
CAC Wirraway
The CAC Wirraway ("Challenge" in the Woiwurrung native tongue) became one of Australia's primary trainer aircraft from 1939 o...


1941
CAC Woomera (A23)
The CAC A23 "Woomera" was a short-lived dive bomber/torpedo bomber of Australian design during World War 2. The push of Japan...


1938
CANT Z.1007 Alcione (Kingfisher)
...


1936
CANT Z.501 Gabbiano (Gull)
The CANT Z.501 Gabbiano (meaning "Gull") was a flying boat aircraft developed in Italy and shared a resemblance to the succes...


1936
CANT Z.506 Airone (Heron)
...


1936
Caproni AP.1
A pair of Ca.301 prototypes served as the basis for a new Italian attack aircraft. The original design sported a low-set mono...


1938
Caproni Ca.310 (Libeccio)
...


1940
Caproni-Campini N1 (CC.2)
With the introduction of the N1 (may also be known as the CC.2), Italy became only the second nation in the world to achieve ...


1941
Consolidated B-24 Liberator
The Consolidated B-24 Liberator became a major player for Allied forces during World War 2. Its exploits ranged the world ove...


1945
Consolidated B-32 Dominator
The Consolidated B-32 Dominator was a limited production four-engine heavy bomber requested by the United States Air Force as...


1940
Consolidated PB2Y Coronado
By the middle of the 1930's America was no longer blind to the real possibility that the war would sooner or later be waged a...


1943
Consolidated PB4Y-2 Privateer
The Consolidated PB4Y-2 Privateer was a further development of the United States Navy's PB4Y-1 anti-submarine warfare aircraf...


1936
Consolidated PBY Catalina
Maritime aircraft play an understated role, especially in that of war time. Fly boats came to pass, first in peace-time devel...


1933
Curtiss A-12 (Shrike)
The A-12 was an inter-war product of the Curtiss Aeroplane and Motor Company first appearing in 1933. The type became the fir...


1938
Curtiss P-36 Hawk (Hawk 75 / Mohawk)
The Curtiss P-36 Hawk aircraft saw considerable operational service in the years leading up to, and during, World War 2. Its ...


1941
Curtiss P-40 Warhawk / Kittyhawk / Tomahawk
The P-40 Warhawk / Kittyhawk / Tomahawk series of aircraft was the further development of the P-36 Hawk platform (detailed el...


1929
Curtiss P-6 Hawk
Originally based on the existing P-1B series of aircraft, the P-6 Hawk series was a first-line pursuit aircraft for the Unite...


1943
Curtiss SB2C Helldiver
The Curtiss SB2C Helldiver was a rather unassuming dive bomber / reconnaissance aircraft serving throughout World War 2 begin...


1938
Curtiss SBC Helldiver
In 1932, the United States Navy contracted the Curtiss-Wright Corporation to produce a modern, two-seat fighter design for us...


1944
Curtiss SC Seahawk
...


1942
Curtiss SO3C Seamew
The Curtiss SO3C "Seamew" (Curtiss Model 82) was an oft-forgotten navy reconnaissance/scout/patrol floatplane produced in qua...


1935
Curtiss SOC Seagull
...


1944
Curtiss XF14C
Curtiss Aircraft enjoyed success with its inline piston-engined P-40 "Warhawk" series of fighters which went on to serve in m...


1939
Curtiss XP-42
The Curtiss XP-42 was a further development of the Curtiss P-36 Hawk model though it would share some initial outward similar...


1941
Curtiss XP-46
The smallish XP-46 was to be the answer for the deficiencies encountered in the P-40 Warhawk platform. Unfortunately for Curt...


1942
Curtiss-Wright C-46 Commando
The United States Air Force utilized the C-46 Commando series as their primary transport workhorse in the Pacific Theater of ...


1943
Curtiss-Wright XP-55 Ascender
The XP-55 Ascender was an unorthodox attempt by the Curtiss-Wright company that produced just three prototype models. Answeri...


1931
de Havilland DH.82 Tiger Moth
The Tiger Moth series produced by the UK firm of de Havilland went on to become one of the more beloved trainers of all time,...


1942
de Havilland DH.98 Mosquito
Discussions of war-winning World War 2 aircraft regularly seem to leave out one of the most famous and successful of the conf...


1936
Dewoitine D.500
The D.500 series, as a whole, was merely a stop-gap design for France - bridging a gap between two eras of aviation resulting...


1939
Dewoitine D.520
The Dewoitine D.520 was a single seat piston-engine fighter designed and built for the French Air Force. Developed from lesso...


1937
Dornier Do 17 (Flying Pencil)
The Dornier Do 17 was a medium-class bomber fielded primarily by the German Luftwaffe in the years leading up to World War 2....


1938
Dornier Do 18
Though a serviceable flying boat with a successful pedigree, the Dornier Do 18 was highly outclassed and outdated at the star...


1939
Dornier Do 215
The Dornier Do 215 was originally intended for export, beginning life as a redesignated version of the Dornier Do 17 light/me...


1942
Dornier Do 217
The Dornier Do 217 was a multi-faceted performer for the German Luftwaffe that ended up fulfilling various roles from bomber ...


1938
Dornier Do 22
The Dornier Do 22 was a German-designed and produced three-man floatplane. It was produced in Germany and Switzerland for the...


1934
Dornier Do 23
...


1937
Dornier Do 24
The Dornier Do 24 was a capable flying both serving in limited numbers both Allied and Axis powers in World War 2. The system...


1945
Dornier Do 335 Pfeil (Arrow)
The Dornier Do 335 Pfeil (or "Arrow") was one of the more unique prop-driven designs of the Second World War. Designed and pa...


1941
Douglas A-20 Havoc / Boston
The Douglas A-20 Havoc served Allied forces through most of World War 2, fighting for British, American and Soviet forces. Th...


1941
Douglas A-24 Banshee
The Douglas A-24 "Banshee" dive bomber fit the requirement of the United States Army for a capable dive bomber-type aircraft....


1944
Douglas A-26 / B-26 Invader
The Douglas A-26 Invader was a distinguished twin-engine light bomber whose origins were well-placed in the Second World War....


1936
Douglas B-18 Bolo
In 1934, the American Douglas aircraft concern developed the DB-1 (also known as the "Douglas Bomber 1") to fulfill a United ...


1944
Douglas BTD Destroyer
...


1940
Douglas C-47 Skytrain / Dakota
The C-47 Skytrain was a product of the Douglas Aircraft Company and is regarded as the best transport of World War 2. Interes...


1942
Douglas C-54 Skymaster (DC-4)
Derived from the commercial DC-4 airliner, the C-54 Skymaster was a workhorse transport aircraft for both the United States A...


1934
Douglas DC-2
Before the DC-3 became a marketing success for the Douglas Aircraft Company - produced in some 16,000 total examples - the co...


1936
Douglas DC-3
...


1938
Douglas SBD Dauntless
The Douglas DBS Dauntless dive bomber was a key cog in the America Navy war effort throughout the Pacific during World War 2....


1937
Douglas TBD Devastator
The Douglas TBD Devastator was classified as a torpedo bomber and served in the early half of World War 2 with the United Sta...


1937
Fairey Battle
...


1943
Fairey Firefly
The Fairey Firefly was a hugely successful, two-seat, carrierborne fighter aircraft serving with the Royal Fleet Air Arm thro...


1940
Fairey Fulmar
...


1936
Fairey Swordfish
The Fairey Swordfish was one of the unsung heroes of the Second World War. With Britain seemingly fighting the world war all ...


1936
Fiat BR.20 Cicogna (Stork)
The Fiat BR.20 Cicogna (translated to "Stork") was a medium bomber in service with the Italian Air Force in the late inter-wa...


1938
Fiat CR.32
Arguably the best biplane fighter of Italian design before the start of the Second World War. The plane was also built for ex...


1939
Fiat CR.42 Falco (Falcon)
Despite its by-gone era appearance, the Fiat CR.42 Falco (meaning "Falcon") played a crucial role in the early war years for ...


1938
Fiat G.50 Freccia (Arrow)
The Fiat G.50 Freccia (meaning "Arrow") series provided the Italian Air Force with a then-modern monoplane fighter featuring ...


1943
Fiat G.55 Centauro (Centaur)
Undoubtedly, the Fiat G.55 Centauro (Centaur) served as Italy's best fighter design of World War 2. The type made use of a li...


1944
Fieseler Fi 103R (Reichenberg)
The Fiseler Fi 103R was, in essence, the piloted form of the successful V-1 rocket that terrorized London citizens throughout...


1937
Fieseler Fi 156 Storch (Stork)
The seemingly fragile Fieseler Fi 156 Storch(or "Stork") does not seem to have a home in a global conflict as World War 2 was...


1943
Fisher XP-75 / P-75 Eagle
General Motors became a major player in the American manufacturing realm when World War 2 arrived for the United States. With...


1939
Flettner Fl 265
The Flettner Fl 265 served as an experimental helicopter system for the German Kriegsmarine during World War 2. In many ways,...


1942
Flettner Fl 282 Kolibri (Hummingbird)
...


1941
Focke-Achgelis Fa 223 Drache / Fa 266 Hornisse
...


1937
Focke-Wulf Fw 187 Falke (Falcon)
Despite demonstrating some impressive performance statistics from underpowered engines, the Focke-Wulf product Fw 187 Falke (...


1940
Focke-Wulf Fw 189 Uhu (Owl)
The Focke-Wulf brand Fw 189 Uhu (translated to "Owl") was of the most peculiar aircraft design for the German Luftwaffe in th...


1939
Focke-Wulf Fw 190 Wurger (Shrike)
The Focke-Wulf Fw 190 single-seat fighter is held by some to be the best German piston fighter of the Second World War - and ...


1942
Focke-Wulf Fw 191
The Fw 191 was the Focke-Wulf submission to the German Air Ministry's "Bomber B" program of 1939. Authorities were sold on th...


1938
Focke-Wulf Fw 200 (Condor)
The German Fw 200 Condor was initially a trans-Atlantic passenger and cargo (mail) aircraft developed by Focke-Wulf and legen...


1945
Focke-Wulf Ta 152
The Focke-Wulf Ta 152 was a short-lived, high-level interceptor fielded by the German Luftwaffe in the latter part of World W...


1944
Focke-Wulf Ta 154 Moskito (Mosquito)
The Ta 154 Moskito ("Mosquito") was another product of the Focke-Wulf aircraft design firm operating for the Third Reich. The...


1945
Focke-Wulf Ta 183 (Huckebein)
By late in World War 2, German authorities had already made a stout commitment to the production of fighters over bombers. Se...


1938
Fokker D.XXI
Designed by Anthony Fokker in 1935, the Fokker D.XXI first flew on March 27th, 1936. The system was originally intended to fi...


1938
Fokker G.I (Reaper)
The Fokker G.I "Reaper" began as a private venture in 1936 under the leadership of Dr. Erich Schatzki, head engineer at Fokke...


1939
Fokker T.IX
...


1938
Fokker T.V
...


1942
General Aircraft Hamilcar
...


1944
Gloster / Armstrong Whitworth Meteor
The Gloster Meteor became Britain's first operational jet-powered fighter aircraft. It reached operational status in the latt...


1935
Gloster Gauntlet
Gloster Gauntlet origins lay in a Gloster design appearing in the late 1920's for the Royal Air Force and served throughout t...


1937
Gloster Gladiator
The Gloster Gladiator was a product of the Gloster Aircraft Company and a design of one Henry Phillip Folland. Achieving firs...


1945
Gotha Project 60C
The Gotha Project 60C nightfighter was another late-war "paper airplane" design attempt intended to defend the Reich from the...


1940
Grumman F4F Wildcat
The Grumman F4F Wildcat was the unsung hero of the Allied Pacific Theater campaign in the early years of World War 2. Often o...


1943
Grumman F6F Hellcat
The F6F Hellcat was the successor to - and a logical evolution of - the capable F4F Wildcat series of carrier-borne aircraft ...


1945
Grumman F8F Bearcat
In many ways, the Grumman F8F Bearcat was the pinnacle of United States piston-engine fighter design. The aircraft arrived wi...


1937
Grumman Goose (G-21)
While most every aircraft venture usually began with a military requirement or private venture undertaken by a manufacturer f...


1936
Grumman J2F Duck
...


1942
Grumman TBF Avenger
Destined never to win beauty contests, the Grumman TBF Avenger series of aircraft would go down as one of the most potent tor...


1941
Grumman XP-50 Skyrocket
Firmly entrenched as an aircraft supplier to the United States Navy, the Grumman aircraft company set about to supply an equa...


1940
Handley Page Halifax
While the Lancaster Heavy Bomber will always be more identifiable in terms of the British night bombing campaigns of World Wa...


1938
Handley Page Hampden
...


1931
Hawker Fury (I & II)
The Hawker Fury was the mainstay of Britain air defense throughout the 1930's until being replaced by the Gloster Gladiators....


1937
Hawker Hurricane
The Hawker Hurricane was indeed the true star of Britain's march against the Third Reich. Often overshadowed by the sleeker a...


1945
Hawker Sea Fury / Fury
The Hawker Sea Fury was developed out Hawker's Typhoon and Tempest aircraft designs utilized by Britain during World War 2. T...


1941
Hawker Sea Hurricane
The Hawker Sea Hurricane appeared in 1941 in an effort to protect British merchant ships from German naval attacks. Basically...


1944
Hawker Tempest
The Hawker Tempest originally appeared as an improved Hawker Typhoon, the war-winning aircraft that effectively failed in its...


1939
Hawker Tornado
...


1941
Hawker Typhoon
The Hawker Typhoon (affectionate known as the "Tiffie") was initially intended as a dedicated interceptor and set to succeed ...


1936
Heinkel He 111
Though the base He 111 was arguably the most important bomber of the Third Reich during the Second World War, the idea of bom...


1942
Heinkel He 111 Z (Zwilling)
The He 111 Z (or "Zwilling") was an interesting, albeit bizarre, joining of two He 111 medium bombers (detailed elsewhere on ...


1935
Heinkel He 112
The Heinkel He 112 was the only serious threat (next to the Messerschmitt Bf 109) to becoming Germany's first modern monoplan...


1939
Heinkel He 115
By all accounts, the He 115 series of floatplane aircraft was regarded as the finest such aircraft in all of World War 2. She...


1945
Heinkel He 162 Volksjager (Peoples Fighter)
The He 162 Volksjager (the "People's Fighter") was developed as a quick solution to stem the tide of the major Allied advance...


1939
Heinkel He 176
In the late 1930s, the Heinkel concern of Germany began work on the world's first all-liquid fueled rocket-propelled aircraft...


1942
Heinkel He 177 Greif (Griffin)
The Heinkel He 177 Greif (or "Griffin") was a bomber produced in limited numbers for the German Luftwaffe. By any standard, t...


1939
Heinkel He 178
The Heinkel-produced He 178 has the distinct honor of becoming the world's first aircraft to fly solely with a turbojet engin...


1943
Heinkel He 219 Uhu (Eagle-Owl)
The advanced Heinkel He 219 "Uhu" (meaning "Eagle-Owl") was an impressive dedicated night-fighter platform serving the intere...


1941
Heinkel He 280
Though never produced in any operational format, the Heinkel He 280 series was the world's first turbojet fighter aircraft de...


1944
Heinkel He 343 (Strahlbomber / Strabo 16)
Towards the end of World War 2, there was a definitive shift in German thinking from piston-powered aircraft types to jet-pow...


1935
Heinkel He 51
The He 51 was a product of the German Heinkel firm and a design of the Gunter twins, Walter and Siegfried. The Gunters became...


1931
Heinkel He 59
...


1933
Heinkel He 70 (Blitz)
The Heinkel 70 (Blitz) was originally born out of a need for a speedy aeroplane charged with "fast" mail delivery for the Deu...


1945
Heinkel He P.1078C
Germany's Emergency Fighter Program was enacted in the middle of July in 1944 in response to the Allied bombing offensive tak...


1944
Heinkel Lerche (Lark)
...


1936
Henschel Hs 123
The Henschel-produced Hs 123 aircraft became the last operational biplane for the German Luftwaffe during World War two. Born...


1942
Henschel Hs 129
The Henschel Hs 129 fighter-bomber was built to a 1937 German specification for a twin-engine close-support aircraft with con...


1945
Henschel Hs 132
The Henschel Hs 132 was another of the ambitious German jet-powered designs under development in the closing years of the Sec...


1941
Henschel Hs P.75
The Henschel Hs P.75 appeared in 1941 as a possible contender to the outmoded and outclassed Messerschmitt BF 110 "Zerstorer"...


1945
Horten Ho IX / Horten Ho 229
The Horten Ho IX (or "Horten Ho 229" - sometimes wrongly designated the "Gotha Go 229") maintains a certain level of celebrit...


1944
Horton Ho X (10)
The Horten Ho X (10) continued the Horten Brother's love affair with the flying wing concept. The concept was notably solidif...


1943
Hughes D-2 / D-5 (XP-73 / XA-37)
...


1945
Hughes H-4 Hercules (Spruce Goose)
The famed Hercules aircraft produced and flown only one time by Howard Hughes himself. It was commonly known as the 'Spruce G...


1946
Hughes XR-11 / XF-11
Though only achieving prototype form, the XF-11 was one of the darling designs of famed American aviator Howard Hughes. Looki...


1941
IAR 80 / IAR 81
When first unveiled in 1938, the Romanian-produced I.A.R. 80 (IAR = Industria Aeronautica Romana) piston engine, single-seat ...


1941
Ilyushin IL-2 Sturmovik
The Il-2 Sturmovik (or "Shturmovik") was designed as a low-level close-support aircraft capable of defeating enemy armor and ...


1937
Ilyushin IL-4
In many ways the Ilyushin-brand IL-4 was a "forgotten" bomber of the Second World War - at least in the West - though it form...


1943
Junkers Ju 187
Throughout the latter half of the 1930s and into the early 1940s, the Junkers Ju 87 "Stuka" dive bomber asserted itself as on...


1943
Junkers Ju 188 Rache (Avenger)
When the new Junkers Ju 288 - a design meant to replace the Junkers Ju 88 series of bombers - ran into developmental issues w...


1944
Junkers Ju 287
The Junkers Ju 287 was arguably the most unique design of all of the German jet-powered projects in development during and up...


1943
Junkers Ju 390 (New York Bomber)
The German Junkers Ju 390 long range heavy bomber aircraft design was intended to be able to strike at locations along the ea...


1932
Junkers Ju 52
...


1936
Junkers Ju 86
...


1937
Junkers Ju 87 (Stuka)
Before the Allies would gain air superiority over the skies of France and Germany, the Junkers Ju 87 "Stuka" dive bomber woul...


1939
Junkers Ju 88
The Junkers Ju 88 represented one of the better and more successful bomber designs attributed to the German Luftwaffe. The sy...


1938
Kawanishi H6K (Mavis)
Though looking very much the part of a German-produced Dornier series flying boat, the Kawanishi brand H6K series (codenamed ...


1942
Kawanishi H8K (Emily)
The Empire of Japan seemed to be producing its best aircraft designs of the war towards the end of the conflict. The Kawanish...


1943
Kawanishi N1K-J Shiden (George)
Despite some early setbacks in design, the Kawanishi N1K1-J "Shiden" (or "violet lightning" - codenamed "George" by the Allie...


1945
Kawasaki Ki-100
Despite being produced in severely limited numbers (thanks in large part to the Allied bombing campaigns in the Pacific), the...


1944
Kawasaki Ki-102 (Randy)
The two-seat, twin-engine Ki-102 was classified as a close-support/heavy fighter aircraft and developed by the Kawasaki conce...


1944
Kawasaki Ki-45 KAIc Toryu (Nick)
Despite serving in limited numbers, fielded with no search-finding radar and appearing as the only Imperial Japanese Army nig...


1942
Kawasaki Ki-45 Toryu (Nick)
By 1937, interest in a twin-engine fighter had peaked for the Imperial Japanese Army so much so that a requirement was put fo...


1940
Kawasaki Ki-48 (Lily)
...


1941
Kawasaki Ki-60
...


1943
Kawasaki Ki-61 Hien (Tony)
The Kawasaki Ki-61 Hien (meaning "Swallow" and codenamed "Tony" by the Allies) was another of the oft-forgotten yet impressiv...


1943
Kawasaki Ki-64
...


1943
Kawasaki Ki-96
...


1938
Koolhoven F.K.56
...


1940
Koolhoven F.K.58
...


1945
Kyushu J7W Shinden (Magnificent Lightning)
The unorthodox Kyushu J7W Shinden ("Magnificent Lightning") was a "wonder-weapon" of the Empire of Japan in the closing mon...


1942
Kyushu K11W Shiragiku (White Chrysanthemum)
Oft-forgotten, but no less important to the Japanese war effort of World War 2, was the Kyushu K11W Shiragiku ("White Chrysan...


1945
Kyushu Q1W Tokai (Eastern Sea) / (Lorna)
The Kyushu Q1W "Tokai" (translating to "Eastern Sea" and codenamed "Lorna" by the Allies) was an anti-submarine bomber utiliz...


1938
Latecoere 298
...


1940
Lavochkin La-5
Design of the Lavochkin La-5 series of low-to-medium altitude fighters was spurred on by a need for equipment capable of matc...


1940
Lavochkin LaGG-3
The LaGG-3 piston-engine pursuit fighter (the LaGG in the designation coming from "Lavochkin-Gorbunov-Goudkov") was one of th...


1928
Liore et Olivier LeO 25
...


1938
Liore et Olivier LeO 45 (series)
...


1945
Lockheed C-69 Constellation
The Lockheed Constellation series of aircraft was a successful design that initially began as a militarized transport, appear...


1939
Lockheed P-38 Lightning
The Lockheed P-38 Lightning, nicknamed the "Fork-Tailed Devil" - Der Gabelschwanz Teufel - by the Germans, was the brainchild...


1945
Lockheed P-80 / F-80 Shooting Star
The Lockheed P-80/F-80 Shooting Star is undoubtedly the world's most successful first generation jet-powered fighter. Appeari...


1942
Lockheed PV-1 Ventura / PV-2 Harpoon
...


1942
Lockheed XP-49
The XP-49 was a development of the Lockheed Corporation and a possible replacement for its successful line of P-38 Lightning ...


1944
Lockheed XP-58 Chain Lightning
The XP-58 "Chain Lightning" was initially envisioned as a larger version of the successful Lockheed P-38 Lightning twin-boom ...


1939
Loire-Nieuport LN.401/LN.411 (LN.40)
The Loire-Nieuport LN.40/LN.401 series of aircraft was a carrier-based dive bomber developed for the French Navy prior to Wor...


1943
Luftwaffe Mistel (Mistletoe) / Beethoven-Gerat / Vati und Sohn
...


1938
Macchi C.200 Saetta (Lightning)
The Macchi M.C.200 Saetta (or "Lightning") was the main production fighter in the Italian military when Italy entered the Sec...


1941
Macchi C.202 Folgore (Thunderbolt)
The Macchi C.202 Folgore ("Thunderbolt") served as one of the top Italian-designed fighters during the critical middle years ...


1943
Macchi MC.205 Veltro (Greyhound)
...


1941
Martin B-26 Marauder
The Martin B-26 Marauder overcame a rocky start to become one of the finest medium bombers of World War 2. The aircraft was d...


1941
Martin Baltimore (A-30)
The Martin-produced Baltimore was a light-to-medium class bomber whose design was based highly on the Martin "Maryland" A-22 ...


1940
Martin Maryland (A-22)
The Martin-produced Maryland series was classified as a light bomber and saw action as a photographic reconnaissance plane th...


1941
Martin PBM-3 / PBM-5 Mariner
The Martin PBM-3 / PBM-5 Mariner was a World War 2-era flying boat used in the maritime reconnaissance role. Martin designed ...


1943
McDonnell XP-67 Bat / Moonbat
The XP-67 was the first attempt by the McDonnell corporation to build a fighter for the United States Military. The same corp...


1934
Messerschmitt Bf 108 Taifun (Typhoon)
...


1937
Messerschmitt Bf 109
In the years leading up to and during World War 2, the Messerschmitt Bf 109 was the principle fighter of the German Luftwaffe...


1939
Messerschmitt Bf 110 Zerstorer (Destroyer)
The twin-engine Messerschmitt Bf 110 Zerstorer (or "Destroyer" or even "Heavy Fighter" in some sources) was initially designe...


1944
Messerschmitt Me 163 Komet (Comet)
The Me 163 Komet was perhaps the most unique aircraft design of the Second World War. German scientists, always on the cuttin...


1943
Messerschmitt Me 209-II
The Messerschmitt Me 209-II was a proposed successor to the far-reaching Messerschmitt Bf 109 fighter. The Bf 109 was the sta...


1944
Messerschmitt Me 262 Schwalbe (Swallow)
The Me 262 Schwalbe (or "Swallow") is a good case study in the "what if" category centering around poor production design and...


1942
Messerschmitt Me 264 Amerika (America)
The Messerschmitt Me 264 was intended as a long-range aircraft and reconnaissance platform that was to supply the German Luft...


1942
Messerschmitt Me 309
...


1941
Messerschmitt Me 321 Gigant (Giant)
The Messerschmitt Me 321 "Gigant" ("Giant") was developed as a large cargo hauler to help supplement German airborne troop ac...


1943
Messerschmitt Me 323 Gigant (Giant)
No sooner had the Messerschmitt Me 321 unpowered glider entered service that a powered version was being requested by the Ger...


1944
Messerschmitt Me 328
The "parasite" fighter had long held an interest within the minds of aircraft engineers, particularly as new methods of propu...


1943
Messerschmitt Me 410 Hornisse (Hornet)
The Messerschmitt Me 410 Hornisse ("Hornet") was, in effect, a further development of the unstable Me 210 system. Though impr...


1944
Messerschmitt Me P.1101
The Messerschmitt Me P.1101 was a swept-wing, single-seat, single-engine jet-powered fighter aircraft under development for t...


1944
Messerschmitt Me P.1101/92
In 1944, Messerschmitt (among other German aircraft firms) was hard at work penciling out design concepts for the German Air ...


1941
Mikoyan-Gurevich MiG-1 / MiG-3
Despite being one of the fastest Soviet piston-engine designs in the early years of the war, the MiG-3 was dogged by less-tha...


1940
Miles M.20
...


1937
Mitsubishi A5M (Claude)
The Mitsubishi A5M (code-named "Claude" by the Allies) became the world's first shipborne monoplane fighter aircraft when it ...


1942
Mitsubishi A6M Reisen (Zeke / Zero)
With a design history beginning as early as 1937, the A6M series (commonly referred to as the "Zero" or by the Allied codenam...


1945
Mitsubishi A7M Reppu (Sam)
Japanese engineers developed many fine fighter designs during the height of World War 2 including the famous "Zero" carrier-b...


1936
Mitsubishi G3M Rikko (Nell)
The Mitsubishi G3M "Rikko" (codenamed "Nell" by the Allies) was a frontline, twin-engine medium bomber utilized primarily by ...


1941
Mitsubishi G4M (Betty)
Like most of Imperial Japan's aircraft in the early stages of World War 2, the Mitsubishi G4M (codenamed "Betty" by the Allie...


1942
Mitsubishi J2M Raiden (Jack)
The J2M Raiden (meaning "Thunderbolt" and codenamed "Jack" by the Allies) was primarily used as a local defense fighter by th...


1945
Mitsubishi J8M (Shusui)
The Empire of Japan and the nation of Germany had maintained a relationship since Prussian authorities made diplomatic contac...


1944
Mitsubishi Ki-109
The Mitsubishi Ki-109 was a specialized derivative of the Mitsubishi Ki-67 heavy bomber. The Ki-109 was designed specifically...


1937
Mitsubishi Ki-15 (Babs)
...


1939
Mitsubishi Ki-21 (Sally)
The Mitsubishi Ki-21 (codenamed "Sally" by the Allies) was a successful medium bomber in service with the Japanese Air Force ...


1938
Mitsubishi Ki-30 (Ann)
...


1941
Mitsubishi Ki-46 (Dinah)
Since May of 1937, the Empire of Japan - both the Imperial Japanese Army Air Force and the Imperial Japanese Navy Air Service...


1940
Mitsubishi Ki-51 (Sonia)
...


1944
Mitsubishi Ki-67 Hiryu (Peggy)
The Mitsubishi-designed Ki-67 Hiryu (translated to "flying dragon" and dubbed "Peggy" by the Allies) is oft-regarded as the b...


1938
Morane-Saulnier MS 405 / 406
The Morane-Saulnier M.S.406 was a single engine, piston-powered, single-seat fighter appearing just before the outbreak of ho...


1941
Nakajima B5N (Kate)
By 1941, the B5N series of torpedo bombers were considered the best of their type anywhere in the world. The system was initi...


1942
Nakajima B6N Tenzan (Jill)
The Nakajima B6N Tenzan (translating to "heavenly mountain") series was a capable torpedo bomber fielded by the Imperial Japa...


1945
Nakajima G8N Renzan (Rita)
The Nakajima G8N Renzan (or "Mountain Range" - codenamed "Rita" by the Allies) was a heavy bomber design put forth by the Nak...


1942
Nakajima J1N Gekkou (Irving)
The Nakajima J1N1-S series was a dedicated nightfighting aircraft based on the J1N1 Gekko ("moonlight") reconnaissance aircra...


1945
Nakajima Ki-115 Tsurugi
The Nakajima Ki-115 Tsuguri ("Sword") was a simplistic single-seat, single-engine suicide fighter aircraft development undert...


1937
Nakajima Ki-27 (Nate / Abdul)
The Nakajima Ki-27 "Nate" (known early on as "Abdul") was a successful low-monoplane, all-metal with stressed skin fighter de...


1942
Nakajima Ki-43 Hayabusa (Oscar)
By 1937, it became apparent to the Imperial Japanese Army (IJA) that a more modern replacement for the Nakajima Ki-27 was nee...


1941
Nakajima Ki-44 Shoki (Tojo)
The Nakajima Ki-44 Shoki (meaning "Demon Queller" and codenamed "Tojo" by the Allies) was a single engine monoplane intercept...


1941
Nakajima Ki-49 Donryu (Helen)
The Nakajima Ki-49 Donryu (meaning "storm dragon" and codenamed "Helen" by the Allies) heavy bomber was intended as a replace...


1944
Nakajima Ki-84 Hayate (Frank)
Out of the many fine fighters available to the Japanese Army in the closing months of World War 2, none were of greater impor...


1942
North American A-36 Apache (Invader)
The A-36 Apache was a United States Army version of the successful North American P-51 Mustang piston-engine fighter. The ori...


1940
North American B-25 Mitchell
The North American B-25 Mitchell series of medium bombers went on to become one of the classic American aircraft designs to e...


1940
North American P-51 / F-51 Mustang
The North American P-51 Mustang proved an invaluable addition to the Allied cause in the latter half of World War 2. The syst...


1936
North American T-6 Texan
The T-6 Texan was and is a world famous single-engine aircraft primarily known for its use as a trainer. A product of the Nor...


1941
Northrop N-1M
...


1942
Northrop N-9M
...


1943
Northrop P-61 / F-61 Black Widow
The Northrop P-61 Black Widow became the United States' first aircraft specifically designed from the outset as a platform de...


1943
Northrop XP-56 Black Bullet
The XP-56 "Black Bullet" was designed by the Northrop company to an Army Air Corps proposal known as the R-40C. The XP-56 sto...


1945
Northrop XP-79
The concept of the flying wing had been around since the dawn of flight and made more so intriguing throughout the 1920s and ...


1946
Northrop YB-35
...


1941
OQ-2A Aerial Target
...


1940
Petlyakov Pe-2
The Petlyakov Pe-2 began arriving in small numbers on the East Front in the summer of 1941. The system owed its pedigree from...


1941
Petlyakov Pe-3
...


1942
Piaggio P.108
The Piaggio P.108 was a multi-faceted airframe developed to fulfill a variety of roles for the Italians during World War 2. S...


1941
Piper L-4 Grasshopper
The Piper L-4 Grasshopper evolved from the successful Piper Cub series that took to the air as early as 1930. By 1941, the US...


1934
Polikarpov I-15 (Chaika)
The Polikarpov I-15 was a biplane fighter aircraft designed and produced by the Soviet Union during the inter-war years. She ...


1935
Polikarpov I-16
The Polikarpov I-16 fighter proved to be quite the little aggressor before and throughout the Second World War. Initially see...


1929
Polikarpov Po-2 (Mule)
...


1938
Potez 630 / 631
...


1934
PZL P.11
...


1936
PZL.23 Karas
The PZL.23 "Karas" (meaning "the crucian carp") series of aircraft was a conventional - yet outdated - monoplane light bomber...


1943
Reggiane Re.2000 Sagittaro (Archer)
The Reggiane 2000 series of aircraft was very reminiscent of American interwar designs appearing between 1930 and 1940. The R...


1941
Reggiane Re.2001 Falco (Falcon)
...


1943
Reggiane Re.2002 Ariete (Ram)
...


1942
Republic P-47 / F-47 Thunderbolt
While much of the romance of World War 2 dogfighting often heads in the direction of the USAAF's North American P-51 Mustang ...


1946
Republic XF-12 Rainbow
During World War 2, the Republic Aviation name was primarily tied to the excellent P-47 "Thunderbolt" fighter-bomber which pr...


1944
Republic XP-72 Super Thunderbolt
The XP-72 Wasp Major Thunderbolt was intended to be an "ultimate" design of the highly successful P-47 Thunderbolt fighter-bo...


1940
Rogozarski IK-3
When covering the range of topics concerning aviation in World War 2, it becomes accepted practice to overlook the developmen...


1945
Ryan FR Fireball
The Ryan FR Fireball fighter was something of a unique creation in the annals of US Navy aviation. The fighter fielded two ...


1945
Saab J 21
The Saab 21 series of fighter aircraft was of a most unique design - in more ways then one. The system was drawn up to a 1941...


1936
Saro A27 London
The Saro London borrowed much from the British flying boat designs peppering the 1920s and, in many ways, her retirement was ...


1939
Saro A36 Lerwick
...


1934
Savoia-Marchetti SM.79 Sparviero (Sparrowhawk)
The Savoia-Marchetti SM.79 Sparviero series of tri-engined bombers was the best bomber for the Italian Axis power in the Seco...


1935
Savoia-Marchetti SM.81 Pipistrello (Bat)
The Savoia-Marchetti SM.81 Pipistrello ("Bat") served primarily with the Regia Aeronautica throughout the 1930s and 1940s. Th...


1941
Savoia-Marchetti SM-84
...


1937
Seversky P-35
...


1940
Short Stirling
The gangly-looking Short Sterling formed the backbone of heavy bomber groups for the RAF from the Battle of Britain on throug...


1937
Short Sunderland
The Short Sunderland was the premiere flying boat of British military aviators during World War 2. Oft regarded as one of the...


1935
Sikorsky S-43
...


1933
Stinson Reliant
...


1940
Sukhoi Su-1 / Su-3
The Su-1 (and related Su-3) fighter aircraft were short-lived prototype developments of the Soviet Sukhoi concern - essential...


1941
Sukhoi Su-2
The Sukhoi Su-2 was the first aircraft design of Pavel Sukhoi and became a two-seat light bomber fielded by the Soviet Air Fo...


1942
Supermarine Seafire
When the land-based Hawker Hurricane was successfully converted into the carrier-based "Sea Hurricane", thought was given to ...


1938
Supermarine Spitfire
The Supermarine Spitfire the legendary British fighter aircraft developed prior to World War 2. The type earned its status as...


1937
Supermarine Stranraer
The Supermarine Stranraer was the final evolution of the Supermarine Southampton which debuted in March of 1925. The original...


1936
Supermarine Walrus
...


1940
Tucker XP-57 (Peashooter)
...


1936
Tupolev SB-2
The Tupolev SB-2 (the "SB" in the designation standing for "skorostnoi bombardirovschik" meaning "fast bomber") was a light-t...


1942
Tupolev Tu-2 (Bat)
Russian aviation engineer Andrei Tupolev would lend his surname to a plethora of Soviet-era aircraft after founding his Tupol...


1937
Vickers Wellesley
...


1938
Vickers Wellington
The Vickers-produced Wellington medium-class bomber was a principle bomber of the Royal Air Force at the start of the Second ...


1943
VL Myrsky (Storm)
Prior to its war with the Soviets, Finnish authorities were contemplating an indigenous fighter design to stock its fledgling...


1942
Vought F4U Corsair
The F4U Corsair series of aircraft was one of the finer fighter developments of the Second World War, primarily seeing combat...


1940
Vought OS2U Kingfisher
The OS2U Kingfisher was a product of the Vought aircraft firm, appearing initially as the VS.310 design to which the United S...


1937
Vought SB2U Vindicator
...


1941
Vultee A-35 Vengeance
The A-35 Vengeance was a dive bomber produced by the Vultee Aircraft Company and resulted in over a thousand examples being u...


1939
Vultee BT-13 Valiant
The BT-13 Valiant was a stellar trainer aircraft used for basic flight training and for blind instrument training throughout ...


1943
Vultee XP-54 Swoose Goose
The Vultee XP-54 was one of the more distinct aircraft creations designed during World War 2. Produced through the essentiall...


1945
Vultee XP-81
The Consolidated Vultee XP-81 was a proposed long-range, high-altitude fighter design that was to be the answer for bomber es...


1944
Westland Welkin
With its origins in the Westland Whirlwind, the Westland Welkin (meaning "Vault of Heaven") was a twin-engined fighter design...


1940
Westland Whirlwind
The Westland Whirlwind was a most capable design that might have seen even better service numbers were it not for the choice ...


1940
Yakovlev Yak-1 (Krasavyets)
Often overshadowed by its contemporaries in the West (to include the Supermarine Spitfire, North American P-51 Mustang, Messe...


1944
Yakovlev Yak-3
The Yakovlev Yak-3 was a further development of the Yak-1 series of fighters (detailed elsewhere on this site) and was well r...


1943
Yakovlev Yak-9 (Frank)
In line with other classic wartime fighters of World War 2, the Yakovlev-produced Yak-9 was another excellent piston-engine a...


1942
Yokosuka D4Y Suisei (Judy)
The Yokosuka D4Y Suisei (translating to "Comet" and nicknamed "Judy" by the Allies) was a capable dive bomber serving the Imp...


1945
Yokosuka MXY7-K1 Ohka (Cherry Blossom)
The Yokosuka MXY7 Ohka (translated to "Cherry Blossom") was a single-seat, pilot-guided suicide fighter proposed and produced...










































































































































































































































































































































































































































































































































































































































































































































































































































































































































































































































































































BY TYPE:
• Anti-Submarine Warfare (ASW)
• Attack Helicopters
• Bomber Aircraft
• Medium Bombers
• Heavy Bombers
• Close-Air Support (CAS)
• Commercial Aircraft
• Dive Bombers
• Electronic Warfare Aircraft (EWA)
• Experimental / X-Planes
• Fighter Aircraft
• Floatplane Aircraft
• Flying Boat Aircraft
• Aerial Refueling Tankers
• Helicopters (ALL)
• Interceptor Aircraft
• Multi-Role Aircraft
• Navy Carrier Aircraft
• Night Fighters
• Reconnaissance / Scout
• Scout Helicopters
• Special Purpose
• Torpedo Bombers• Trainer Aircraft
• Transport Aircraft
• Transport Helicopters
• Unmanned Aerial Vehicles (UAVs)
• Unmanned Combat Air Vehicles (UCAVs)
COLLECTIONS:
• 4th Generation Fighter Aircraft
• 5th Generation Fighter Aircraft
• US X-Planes
• Classic US Warbirds
• French Military Helicopters
• Grumman "Cats"
• Howard Hughes Aircraft
• Indian Air Force
• Israeli Air Force
• Libyan Aircraft
• Modern Chinese Aircraft
• Modern Military Aircraft
• Modern Trainer Aircraft
• Modern US Aircraft
• Mikoyan Aircraft
• Sukhoi Aircraft
• Syrian Aircraft
• Top 10 Fighter Aircraft of All Time
AIRCRAFT BY CONFLICT:
• Arab-Israeli War (1948)
• Cuban Missile Crisis (1959-1962)
• Falklands War (1982)
• Indo-Pak War (1965, 1971)
• Iran-Iraq War (1980-1988)
• Lebanon War (1982)
• Operation Allied Force (1999)
• Operation Desert Storm (1991)
• Six Day War (1967)
• Spanish Civil War (1936)
• Soviet-Afghan War (1979-1989)
• Yom Kippur War (1973)
MISCELLANEOUS:
• Aircraft Cockpits
• Aircraft Manufacturers List
• Aircraft Timeline
• Compare Aircraft







WORLD WAR 2:
• 1939 Aircraft
• 1940 Aircraft
• 1941 Aircraft
• 1942 Aircraft
• 1943 Aircraft
• 1944 Aircraft
• 1945 Aircraft
• 1946 Aircraft
• Australian Aircraft
• Battle of Britain Aircraft
• Bombers
• Four-Engine Bombers
• British Aircraft
• British Bombers
• British Transports
• Dive Bombers
• Canadian Aircraft
• Fighters
• Chinese Aircraft
• French Aircraft
• German Aircraft
• German Fighters
• German Flying Boats
• German Jets
• Secret Weapons of the Luftwaffe
• Italian Aircraft
• Imperial Japanese Aircraft
• Imperial Japanese Fighters
• Mitsubishi Bombers
• Navy Aircraft
• Pearl Harbor
• Polish Aircraft
• Romanian Aircraft
• US Aircraft
• US Bombers
• US Navy Aircraft
• Soviet Aircraft
• Torpedo Bombers
• Transport Aircraft
• Tuskegee Airmen Aircraft
• W.A.S.P. Aircraft
• WW2 Aircraft Ranked by Speed
• VIEW ALL
WORLD WAR 1:
• 1914 Aircraft
• 1915 Aircraft
• 1916 Aircraft
• 1917 Aircraft
• 1918 Aircraft
• Aircraft Timeline
• Austro-Hungarian Aircraft
• Bomber Aircraft
• British Aircraft
• Fighters
• French Aircraft
• Imperial German Aircraft
• Italian Aircraft
• Scout Aircraft
• Russian Empire Aircraft
• US Aircraft
• WW1 Aircraft Ranked by Speed
• VIEW ALL
KOREAN WAR:
• Australian Aircraft
• Korean War Aces
• Korean War Jets
• North Korean Aircraft
• US Military Aircraft
• VIEW ALL
VIETNAM WAR:
• Helicopters
• North Vietnam Air Force
• US Airpower
• VIEW ALL
COLD WAR:
• 1950s French Aircraft
• British V-Bombers
• Cold War Bombers
• Soviet Aircraft
• Soviet Bombers
• Soviet Interceptors
• Soviet Helicopters
• Strategic Air Command
• US Aircraft
• US Bombers
• US Interceptors
• VIEW ALL









Trending on Military Factory:

UAVs
Eyes in the Skies

Top 10 Fighters
The Best of the Best

B-52 Stratofortress
Cold War Heavy-Hitter

World War 2 Aircraft
Age of the Metal Monoplane

World War 1 Aircraft
Of Canvas and Wood

Vietnam War Aircraft
Last of the Gunfighters

Korean War Aircraft
Dance of the Jets
21 January 2013
Avro Lancaster Performance
Handley Page Halifax Performance
7 October 2012
P-43 Performance
Boeing B-17F Acceptance Performance Tests
Consolidated B-24D Acceptance Performance Tests
B-26 Performance Test
Douglas A-20B Acceptance Performance Tests
28 September 2012
P-36 Flight Tests
P-40 Performance Tests - major update
Memorandum Report on German Fighter - Focke-Wulf 190
17 September 2012
P-39 Flight Tests- major update
Me 110 Performance
3 September 2012
P-47 Performance - Supplemental Documentation updated
Me 109 E Performance
8 July 2012
Memorandum Report ENG-47-1673-A on Japanese Zero Fighter
Zeke 32 (Hamp), TAIC 102C Performance and Characteristics
Memorandum Report TSFER-1973 on Zeke 52 Airplane No. EB-2
Zeke 52, TAIC 102D Performance and Characteristics
Ki-43 - Oscar 2, TAIC 152A Performance and Characteristics
Ki-44 - Tojo 2, TAIC 155A Performance and Characteristics
Ki-61 - Tony 1, TAIC 154A Performance and Characteristics
Ki-61 - Tony 2, TAIC 154B Performance and Characteristics
Memorandum Report TSFTE-2001 on Frank I, T-2, Serial No. 302
Ki-84 - Frank 1, TAIC 156A Performance and Characteristics
J2M Raiden - Jack 11, TAIC 105A Performance and Characteristics
N1K1-J - George 11, TAIC 107A Performance and Characteristics
1 July 2012
F3A-1 No. 04691
Final Flight Report of Production Inspection Trials
U.S. Naval Air Station, Patuxent River, Maryland

FG-1A No. 14575
Final Flight Report of Production Inspection Trials
U.S. Naval Air Station, Patuxent River, Maryland

XF7F-1 No. 03549
Final Flight Report of Service Acceptance Trials
U.S. Naval Air Station, Patuxent River, Maryland

F7F-1 No. 80262
Performance Characteristics
U.S. Naval Air Station, Patuxent River, Maryland

4 February 2012
P-39 Performance

P-40 Performance

P-63 Performance

24 September 2011
Spitfire I Performance Updated:
6 June 2009
Hurricane Mk I Performance Updated: New documentation on +12 lbs. boost.

15 February 2009
FW 190 A-5 Performance updated

25 January 2009
Vampire Performance Testing
Meteor Performance Testing
P-80 Performance Trials
Memorandum Report on The HE-162, AAF No. 489
Memorandum Report on ME-163B, Serial No. FE-500
Memorandum Report on Arado 234, AAF No. T2-1010
Note on the performance in flight of the German jet-propelled aircraft Messerschmitt 262, Heinkel 162 and Arado 234
History and Experiences of He-162 , HE-162 Report No. 2
8 November 2008
Hurricane Mk I Performance Updated: New documentation on Constant Speed Propellers, pilot armour and +12 lbs. boost.
Spitfire Mk. I versus Me 109 E Updated: New documentation on Constant Speed Propellers, 100 octane fuel and +12 lbs. boost.
18 May 2008
FW 190 A-8 Performance

19 April 2008
R.A.F. Strength in Squadrons
November 1944 - May 1945

Einsatzbereitschaft der flg.Verbände im Bereich Lfl.Kdo.Reich, Stand 12.4.1945
(Operational Readiness of the aviation organizations
in the area of Lfl.Kdo.Reich)

3 February 2008
Fw 190 D-9 Flight Trials & Performance Updated
5 January 2008
Combat Report of John Bushell, 151 Sqdn. 18 May 1940 (+12 lbs./sq.in boost (100 octane fuel) used by Hurricane pilots during the Battle of France)

Additional Combat Reports of Tempest V pilots: 3 Squadron and 486 (New Zealand) Squadron
16 November 2007
FW 190 A-3 Performance

Sea Fury X

29 September 2007
WWII Aircraft Performance - Forum
Contact Neil Stirling or Mike Williams for details and to register.
3 September 2007
Encounter Reports of P-47 Pilots
The Battle Over Munich – April 24, 1944
By Bill Marshall
Combat Reports of Free French, Norwegian, New Zealand, USAAF & RAF Spitifire IX Squadrons
as well as Combat Reports from Australian, Belgian, Canadian, Czech, Rhodesian & South African
Spitfire IX pilots during 1942 - 1943.
30 April 2007
The Scouting Force at Steeple Morden (F-122)
By Bill Marshall
25 March 2007
Mosquito Performance
Mosquito F Mk. II W-4076
Level speed measurments made with matt
and smooth black finishes.
A. & A.E.E. Boscombe Down

Mosquito F Mk. II W-4096
Compartive level speed performance with
standard and tropical engine cowlings
A. & A.E.E. Boscombe Down

Mosquito B. Mk. IV DK.290
Level speed performance and position
error trials with and without stores carried
A. & A.E.E. Boscombe Down

Mosquito B. Mk. IV DK.290
Comparitive level speeds with ducted
saxaphone and multi stub exhausts
A. & A.E.E. Boscombe Down

Mosquito FB. Mk. VI HJ.679
Brief performance trials
A. & A.E.E. Boscombe Down

Mosquito FB. Mk. VI HJ.679
Tests carried out at Hatfield to check the
Maximum Level Speed obtained in previous tests.
DeHaviland Aircraft Co. Ltd.

Mosquito FB. Mk. VI HX.809
Level speed performance at normal
& increased boost rating
A. & A.E.E. Boscombe Down

Mosquito B. Mk IX LR.495
Performance trials without external
bombs or fuel tanks
A. & A.E.E. Boscombe Down

Mosquito B. Mk IX LR.495
Level speed performance with
two external 500 lbs. fitted
A. & A.E.E. Boscombe Down

Mosquito NF. Mk. XV MP.469
Short Performance and handling trials
A. & A.E.E. Boscombe Down

Mosquito PR Mk XVI DZ.540
Performance, brief handling and
pressure cabin tests
A. & A.E.E. Boscombe Down

Mosquito B. Mk. XX KB.328
Level speed performance trials
A. & A.E.E. Boscombe Down

Mosquito NF. Mk 30 MM.748
Position error and level speed
performance trials
A. & A.E.E. Boscombe Down

Gladiator K-7964
Performance Trials
A. & A.E.E. Martlesham Heath

F4F Performance
F4F-3 Nos. 1845, 1948, 1851
Final Report of Production Inspection Trials
Naval Air Station, Anacostia, D.C.

Detail Specification for Model F4F-3 Airplane
Grumman Aircraft Engineering Corporation

F4F-4 No. 4058
Final Report of Production Inspection Trials
U. S. Naval Air Station, Anacostia, D.C.

F4F-4 Performance Tests
U. S. Naval Air Station, Anacostia, D.C.

F4F-4 Miscellaneous
U. S. Naval Air Station, Anacostia, D.C.

F4F-4 Detail Specification
Grumman Aircraft Engineering Corporation

FM-2 Performance
FM-2 No. 16169
Water Injection Tests
U. S. Naval Air Station, Patuxent River, Maryland

FM-2 No. 15953
Final Flight Report of
Production Inspection Trials
U. S. Naval Air Station, Patuxent River, Maryland

F4U-1 Detail Specification
Chance - Vought Aircraft

F4U-1D Detail Specification
Chance - Vought Aircraft

F4U-4 Detail Specification
Chance - Vought Aircraft

F4U-1 Final Flight Report
of Production Inspection Trials
U. S. Naval Air Station, Patuxent River, Maryland

F4U-4 Final Report
Project TED No. BIS 2157
Production Inspection Trials
U. S. Naval Air Test Center, Patuxent River, MD.

F6F-3 Detail Specification
Grumman Aircraft Engineering Corporation

F6F-3 No. 42874
Final Flight Report of
Production Inspection Trials
U. S. Naval Air Station, Patuxent River, Maryland

F6F-3 No. 25832
Final Flight Report of
Production Inspection Trials
U. S. Naval Air Station, Patuxent River, Maryland

Typhoon Performance Updated
24 January 2007
F6F Hellcat Performance
Model F6F-3 Airplanes - Periodic Performance Check
F6F-3 No. 40164, TED No. PTR 2125
U. S. Naval Air Station, Patuxent River, Maryland

Model F6F-3 Airplanes - Periodic Performance Check
F6F-3 No. 42633, TED No. PTR 2125
U. S. Naval Air Station, Patuxent River, Maryland

Evaluation of Maximum Practicable Combat
Power Rating for the Model F6F-3 Airplane
F6F-3 Nos. 04934, 41420, 42633, TED No. PTR 0414
U. S. Naval Air Station, Patuxent River, Maryland

Model F6F-3 Airplane, Production Inspection Trials
F6F-3 No. 41588, BIS 2116
U. S. Naval Air Test Center, Patuxent River, Md.

Hellcat F.N. 322, Brief Performance Trials
A. & A.E.E. Boscombe Down

Hellcat F.N. 360, Level Speed Performance in
Auxiliary High Supercharger Gear
A. & A.E.E. Boscombe Down

Performance Test Each 1000th Airplane
Model F6F-5 No. 58310, TED No. PTR 2125
U. S. Naval Air Station, Patuxent River, Maryland

Performance Test Each 1000th Airplane
Model F6F-5 No. 72731, TED No. PTR 2125.1
U. S. Naval Air Station, Patuxent River, Maryland

Hellcat II JV.224, Climb and Level Speed Performance
With and Without Water Injection
A. & A.E.E. Boscombe Down

Hellcat II JV.224, Brief Handling Trials
With Spring tab Ailerons
A. & A.E.E. Boscombe Down

F4U Corsair Performance
Maximum Speed of F4U-1 Airplane #02334
("Cleaned-Up" Version) on War Emergency Power Rating
U. S. Naval Air Station, Patuxent River, Maryland

Performance Characteristics of Model F4U-1 Airplane
F4U-1 No. 02155
U. S. Naval Air Station, Patuxent River, Maryland

Model F4U-1 Airplane
Flight Test of Water Injection Equipment
F4U-1 No. 17930 TED PTR No. 2105
U. S. Naval Air Station, Patuxent River, Maryland

Model F4U-1 Airplane
Evaluation of Maximum Practicable Combat Rating
F4U-1 No. 50030 TED PTR No. 0415
U. S. Naval Air Station, Patuxent River, Maryland

Corsair F. Mk II JT.259
Performance Trials and Position Error Measurment
A. & A.E.E. Boscombe Down

Flight Test of Two Model FG-1 Airplanes
British Corsair Mk IV KD 365 and KD 502
TED PTR No. 2140
U. S. Naval Air Station, Patuxent River, Maryland

Corsair F. Mk IV KD.227
Level Speed Trials With and Without Water Injection
A. & A.E.E. Boscombe Down

Final Report on Evaluation of Maximum Practicable
Combat Rating for the Model F4U-1 Airplane
F4U-1 No. 50030 TED PTR No. 0415
U. S. Naval Air Station, Patuxent River, Maryland

1 December 2006
Hurricane Mk I Performance
Hurricane Mk 1 K.5083 Performance Trial
A. & A.E.E.

Hurricane Mk. I L. 1547
Trials with 2-pitch airscrew.
A. & A.E.E.

Hurricane Mk. I L. 2026
Comparitive Performance Trials
A. & A.E.E.

Operational Characteristics of Hurricane Aircraft
Report of Compartive Trials of Hurricane versus Messerschmitt 109
Tactical Trials - Tempest II
Central Fighter Establishment
Report No. 30

Comparative Performance of Fighter Aircraft
By Sqdn. Ldr. T.S. Wade, D.F.C, A.F.C, R.A.F.V.R.

Me 109 G Flight Tests
Me 109 G2: Speed Measurements on Airplanes With Specially Treated and Standard Production Surfaces
Me 109 G-2: Geschwindigkeitsmessungen an Flugzeuge mit sonderbehandelten und serienmässigen Oberflächen
Me 109 G – 6 Trop: Influence of the engine cowling shape on the speed of the ME 109 G
109 G – 6 Trop: Einfluss der Form der Motorhaube auf die Geschwindigkeit der Me 109 G
Me 109 G: Speed influence of 2 MK 108 under the wings of the ME 109 G.
Geschwindigkeitseinfluß von 2 MK 108 unter den Flächen der Me 109 G.
Me 109-G/5: Drag of 160 liter external tank, without fairing, beneath the fuselage.
Widerstand des unverkleideten 160 L Außenbehälters unter dem Rumpf.


Model Specification for Model XP-51 Airplane
(N.A.A. Model No. NA-73) Report No. 1620
North American Aviation, Inc. Inglewood, California

Model Specification for Model A-36 Airplane
(N.A.A. Model No. NA-97) Report No. NA-5338
North American Aviation, Inc. Inglewood, California

F4F-4 Aircraft Characteristics & Performance
Bureau of Aeronautics-Navy Dept.

F4U-1 Aircraft Performance & Characteristics
Bureau of Aeronautics-Navy Dept.

F4U-1 No. 02296 Flying Characteristics
and Design and Maintenance Qualities of F4U-1
Army Air Forces Material Command Memorandum Report No. Eng-19-1641-A

F4U-1 Performance Characteristics

F4U-1D Aircraft Performance & Characteristics
Bureau of Aeronautics-Navy Dept.

F4U-4 Performance Summary

Comparison Trials of P-51B and F4U-1 Airplanes.
U.S. Naval Air Station, Patuxent River, MD

Grumman F6F-3 No. 25820
Army Air Forces Material Command
Memorandum Report No. Eng-19-1640-A

F6F-5 Hellcat Standard Aircraft Characteristics
Bureau of Aeronautics-Navy Dept.

15 October 2006
P-47M Performance Summary
Republic Aviation
Report No. ES-300

P-47N Performance Summary
Republic Aviation
Report No. ES-302-a

P-38 F & G Performance Summary
Lockheed Aircraft Corporation
Report No. 2338

The P-38 Lightning
Evolution of Speed and Climb Performance
By Wayne Cunningham

Tactical Suitability of the P-51 Airplane
Serial No.: 4-42-7
Army Airforces Proving Ground Command
Eglin Field, Florida

Estimated P-51B Mustang Performance
with Improved Fuel (160 grade)

P-51H, Summary of Calculated Performance
North American Aviation
Report No. NA-8284-A

Report of Comparitive Evaluation of
Focke-Wulf 190-A/4 Airplane
Project TED No. PTR-1107
U.S. Naval Air Station, Patuxent River, MD

General Technical Data and Flight
Characteristics of the Zero Fighter Airplane
HQ 23rd FG

Performance and Characteristics of the
Japanese Zero-2 Model A6m2 Airplane

Performance Flight Test of a
Japanese Hamp, AAF No. EB-201
Engineering Division Memorandum
Report Serial No. ENG-47-1726-A

Combat Evaluation of Zeke 52
with F4U-1D, F6F-5, and FM-2
Project TED No. PTR-1111
U.S. Naval Air Station, Patuxent River, MD

16 September 2006
WWIIaircraftperformance.org launched.
Flight Test of the P-51H Airplane,
AAF No. 44-64182
(90" Hg. with bomb and rocket racks)

Tactical Suitability of the P-38G Type
Airplane as Compared to the P-38F

Comparitive Performance of
P-39D, P-40F, and P-51 Airplanes

XP-51F Performance Chart

XP-51G Performance Chart

AFDU Tactical Trials - P-47C

Tests on P-47C's
VIII Fighter Command

Flight Report Nr. 2 FW 190 A-8 733705

Performance and Handling
Charateristics of the FW-190 Airplane
AAF No. EB-104

The Rolls-Royce Griffon
Rolls-Royce Griffon 69
Rolls-Royce Griffon VI
Revised Pages: P-38, P-47, P-51,
Me 109 G, FW 190D-9
8 August 2006
Me 109 G Flight Tests

Encounter Reports of P-51 Mustang Pilots

P-51A-1 Performance Chart

P-51B High Speed Performance